Plato and Sex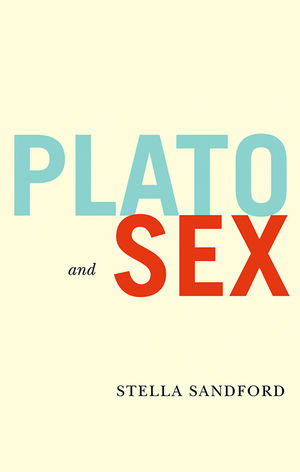 Plato and Sex
ISBN: 978-0-745-65711-0 April 2013 Polity 224 Pages
Description
What does the study of Plato's dialogues tell us about the modern meaning of 'sex'? How can recent developments in the philosophy of sex and gender help us read these ancient texts anew?

Plato and Sex addresses these questions for the first time. Each chapter demonstrates how the modern reception of Plato's works Ð in both mainstream and feminist philosophy and psychoanalytical theory Ð has presupposed a 'natural-biological' conception of what sex might mean. Through a critical comparison between our current understanding of sex and Plato's notion of genos, Plato and Sex puts this presupposition into question. With its groundbreaking interpretations of the Republic, the Symposium and the Timaeus, this book opens up a new approach to sex as a philosophical concept.

Including critical readings of the theories of sex and sexuation in Freud and Lacan, and relating such theories to Plato's writings, Plato and Sex both questions our assumptions about sex and explains how those assumptions have coloured our understanding of Plato. What results is not only an original reading of some of the most prominent aspects of Plato's philosophy, but a new attempt to think through the meaning of sex today.
Acknowledgements vi
Introduction 1
1 Sex and Genos (Republic) 11
2 The Origin of Sex: Aristophanes, Freud and Lacan (Symposium) 41
3 'Eros' and 'Sexuality', Plato and Freud (Symposium) 71
4 'I, a Man, am Pregnant and Give Birth' (Symposium) 98
5 Of Gods and Men: The Natural Beginning of Sex (Timaeus) 128
Coda: The Idea of 'Sex' 157
Notes 166
Bibliography 198
Index 207
"A groundbreaking work in feminist philosophy."
New Formations
"A serious contribution to scholarship in the field of ancient philosophy as well as a serious contribution to feminist philosophy."
Radical Philosophy
"
Plato and Sex
is a groundbreaking treatment of the role of sex in Plato's dialogues. An extended commentary on and source of support for recent attempts to denaturalize our concepts of sex and gender, the book is a major contribution to feminist approaches to Plato, to gender/sexuality studies of Plato, and to gender/sexuality studies as a whole."
Deborah Achtenberg, University of Nevada
"This is an original new contribution to the debate on the limits of the concepts of sex and gender. Sandford questions traditional and feminist interpretations of Plato with equal power and insight, and opens a new possibility for conceptualizing human existence. This is not a request for a return to Ancient forms of thinking but a critical argument which works for the present."
Sara Heinämaa, University of Helsinki
"Sandford offers the intriguing idea that, in interpreting Plato, the categories of man and woman, male and female, are not to be construed as natural-biological ones, but as moral categories, thus explaining the evolution (or rather, devolution) of women, as inferior souls, from men, as superior souls. The study should prove a welcome addition to the intersection of various disciplines, including feminist theory, philosophy and classics."
Julie Ward, Loyola University Chicago
Original and innovative new book which looks at the relationship between Plato's dialogues and the modern meaning of 'sex'
Stella Sandford is very well respected within the field and her new book is likely to spark debate within feminist philosophy and psychoanalytic theory
Includes critical readings of the theories of sex and sexuation in Freud and Lacan, and relating such theories to Plato's writings
With its groundbreaking interpretations of the Republic, the Symposium and the Timaeus, this book opens up a new approach to sex as a philosophical concept