Play to Win: The Nonprofit Guide to Competitive Strategy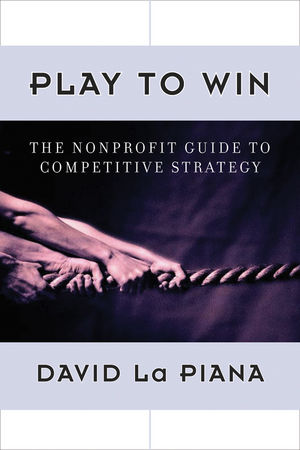 Play to Win: The Nonprofit Guide to Competitive Strategy
ISBN: 978-0-470-88967-1 April 2010 Jossey-Bass 240 Pages
Description
Play to Win offers nonprofit leaders the help they need to develop their organization's unique competitive advantages and to use the power of competitive strategies to build their organization's capacity for advancing its mission. This book offers a clear description of competition and discusses its practical, ethical, and political ramifications within the nonprofit sector. It demonstrates how, by being a more effective competitor, a nonprofit can enhance its chances for both programmatic and financial success. Play to Win is filled with practical tools for assessing a nonprofit's position in the marketplace and developing winning competitive strategies.

Read a Charity Chanel review:

http://charitychannel.com/publish/templates/?a=4864&z=25

2006 Terry McAdam Award Honorable Mention:
Figures, Tables, Exhibits, and Worksheets.
Preface: Why a Book About Nonprofit Competition?
Acknowledgments.
The Authors.
PART ONE: UNDERSTANDING COMPETITION IN THE NONPROFIT SECTOR.
1. The Limits of Collaboration.
2. Competition Out of the Closet.
3. The Competitive Continuum.
PART TWO: ASSESSING YOUR COMPETITIVE POSITION.
4. Your Organization's Competitive Position.
5. Competing with Individual Organizations.
6. Benchmarking Against the Field.
PART THREE: DEVELOPING COMPETITIVE STRATEGIES.
7. Customers.
8. Third-Party Payers.
9. Human Resources.
10. The Media and the Public at Large.
Conclusion: Awakening to Competitive Strategy.
References.
Additional Resources.
Index.
Download the Worksheets
To use this file, download it to your local machine and unzip it. Windows users can use the Windows built-in ZIP utilities or a 3rd party utility like WinZip. Be sure to use the correct option in your ZIP utility to preserve the directory structure when decompressing the archive.
Download
This book helps develop a strategic approach to inter-organizational relationships grounded in direct market feedback.
Explains the relative merits of collaboration or competition.
Includes information on funding and both personnel recruitment and retention.
Offers a guide for organizations on achieving the optimal balance of collaboration and competition.