Playbook for Success: A Hall of Famer's Business Tactics for Teamwork and Leadership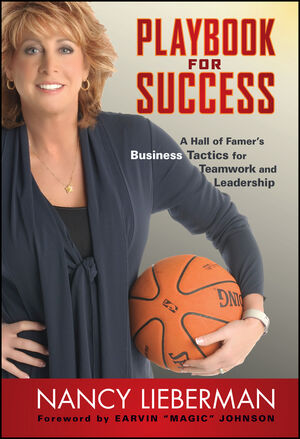 Playbook for Success: A Hall of Famer's Business Tactics for Teamwork and Leadership
ISBN: 978-0-470-63552-0 October 2010 208 Pages
Description
A top coach teaches the sports-related skills and basics every women needs to succeed
There are basics that every woman must have if she is to succeed in the corporate world, start and run her own business, or coach her own winning team. In Playbook for Success, Hall of Fame Business Entrepreneur Nancy Lieberman brings her leadership and coaching ability to the boardroom to teach professional women the same rules of success she teaches her players.
Playbook for Success is a plan to help make success a part of one's daily routine and teach women that success is not just a title or corner office, but an attitude, belief, and way of life.
Teaches the top sports-related skills women need to thrive in the corporate world, featuring a provocative examination of women and teamwork
Includes profiles of women succeeding in business, ways to recognize your own strengths and weaknesses, and exercises that can be used in the business world
Foreword by Basketball Hall of Famer and business legend Earvin "Magic" Johnson
Playbook for Success gives you a unique and inspirational road map to compete and win in your life and career.
FOREWORD EARVIN "MAGIC'' JOHNSON.
ACKNOWLEDGMENTS.
Chapter 1 Why Sports and Business for Women?
Be Flexible: Don't Play the Play, Play the Game.
Succeed Together!
Accept All Challenges.
Title IX Creates Equality.
Chapter 2 The Playbook.
Successful Strategies for Your Team.
The Learning Plan.
Establish Your Leadership Style.
Don't Be Late. Really.
Loyalty Matters.
Chapter 3 Find Your Love and Passion.
Toughen Up—Mentally.
Michael Jackson's Message: Man in the Mirror.
Rucker Park: The Little White Girl Plays with the Best.
Muhammad Ali's Gift of Hope.
The Power of a Woman's Natural Traits: Empathy and Intuition.
Mentoring and Creating Opportunities for Others.
Negotiating 101: Why Should I Have You on My Team?
Ladies, Dry Your Tears!
Chapter 4 Never Fear Success.
Talk to Me.
Utilize Criticism to Get Tougher and Better.
Learn about Overcoming Fear from the Great Lou Holtz.
Chapter 5 Think Like a Champion.
Be Determined.
You Are Who You Think You Are.
My First Meeting with the Champ.
Selective Hearing Not Allowed.
Be Someone's Hero.
Chapter 6 It's All about Teamwork.
A Promise to the Team.
Teamwork Defined.
Building a Team.
Chapter 7 Do Your Homework.
Google It!
Scouting Report.
See the Future.
Larry Fitzgerald Provides a Lesson on Observing.
Chapter 8 Stay in Shape.
Make a Commitment and Get Started.
Minimize Stress.
A Few Words for Women Only.
Chapter 9 Sports Talk.
Use the Morning Headlines.
Use Tickets as a Tool.
Strike Up the Conversation.
Learn to Tell a Story.
Chapter 10 Game Time!
Are You Prepared?
Do What It Takes.
Believe in Yourself.
Set Minigoals.
"B" Nice.
Take a Sound Bite Lesson.
Observe People.
Game Time Rituals.
Risk/Reward.
It's Okay to Be Great.
Decision Makers.
Is It in You?
SPORTS TALK—GLOSSARY 173
INDEX.