Pocket Consultant: Gastroenterology, 3rd Edition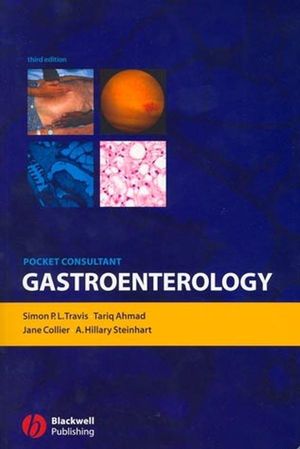 Pocket Consultant: Gastroenterology, 3rd Edition
ISBN: 978-1-405-11192-8
May 2005, Wiley-Blackwell
494 pages
Description
There have been significant developments in the fields of gastroenterology and hepatology since the previous edition and this new edition has been entirely revised, updated and considerably expanded. The format and layout have also been updated to include key points at the start of each chapter, bulleted lists and text boxes for tips and warnings.


A new author team - which, for the first time, is international - has brought a new global perspective to this book.

This is still the leading book for trainees/fellows in gastroenterology and hepatology, as well as junior doctors and general medicine interns. The series title is 'Pocket Consultant' - and that's exactly what the reader gets - the advice and guidance of a consultant on hand when and where they need it.
Preface.
Acknowledgements



Alimentary Emergencies

Oesophagus

Stomach and Duodenum

Pancreas

Liver

Gall Bladder and Biliary Tree

Small Intestine

Inflammatory Bowel Disease

Large Intestine

Irritable Bowel Syndrome

Gastrointestinal Infections

Nutrition (this will now include Anorexia)

The Gut in Systemic Disorders

Procedures and Investigations
.
Appendices:.
1. Useful Addresses & Websites.
2. Further Reading.
3. Height and Weight Charts.
4. Diagnostic Dilemmas.
Index
"This is a very accessible book: the style is didactic, all problems are expressed in a very pragmatic manner [...] all information sought can be found easily (the index is close to perfection); [the book] will stay very visible on my desk in the ward for everyday needs of invaluable information from an up-to-date and sound source."
Digestive and Liver Disease

"Overall I would strongly recommend this book as a starter text for senior SHOs and junior registrars. Those more experienced will also find it a useful revision tool."
Dr Kate Evans SpR Gastroenterology
"This is a fantastic book for newly appointed gastroenterology registrars/fellows and other professionals with an interest in the field." TiGs
"This is a welcome third edition of a well known book for a wide audience. Dr Simon Travis has enlisted the help of gastroenterology experts from a larger field giving the book a more global appeal." MRCP Gastroenterology Specialist Registrar

On previous editions ...
"The 'Pocket Consultants' are a popular series of books aimed at doctors in training, both under- and post-graduate. Thus this is akin to carrying around a consultant-like opinion and font of knowledge in your pocket, and acting as an aid to making your opinion comparable to that of a senior colleague. It is also like having a slice out of one of the bigger textbooks, but being able to carry it around, and maybe, surreptitiously look up a topic." Gastroenterology Today

"This little book is valuable support for junior hospital staff and general practitioners." Scandinavian Journal of Gastroenterology
The third edition of the
Pocket Consultant: Gastroenterology:


Provides advice and guidance of a consultant on hand when and where you need it


Perfect for trainees / fellows, general medicine interns and junior doctors

Covers the discipline of Gastroenterology and Hepatology

Reflects the significant developments in the field with completely revised and updated text

Has an extended international author team to provide greater expertise and a global perspective