Pocket Guide to ECG Diagnosis, 2nd Edition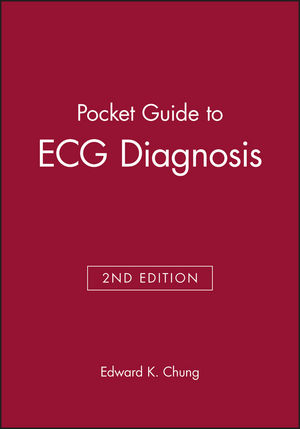 Pocket Guide to ECG Diagnosis, 2nd Edition
ISBN: 978-0-865-42589-7 January 2001 Wiley-Blackwell 528 Pages
Description
Pocket Guide to ECG Diagnosis, Second Edition offers a comprehensive introduction to ECG interpretation in a convenient, pocket-size reference. The author has carefully selected cardiograms that best illustrate the most frequently diagnosed abnormalities. Diagnostic criteria and diagnostic pearls accompany each illustration so the reader can extend his interpretation of the ECG to a diagnosis.
Table of contents
Preface to the Second Edition.
Preface to the First Edition.
Abbreviations.
Suggested Readings.
1. Introduction.
2. Normal Electrocardiogram and Normal Variants.
3. Chamber Enlargement.
4. Intraventricular Conduction Disturbances.
5. Myocardial Ischemia, Injury, and Infarction.
6. Diagnostic Approach to Cardiac Arrhythmias.
7. Disturbances of Sinus Impulse Formation and Conduction.
8. Atrial Arrhythmias.
9. Atrioventricular Junctional Arrhythmias.
10. Ventricular Arrhythmias.
11. Atrioventricular Block.
12. Wolff-Parkinson-White Syndrome (Ventricular pre-Excitation Syndrome).
13. Uncommon Arrhythmias and Electrocardiographic Abnormalities.
14. Artificial Pacemaker Rhythms.
15. Congenital Heart Disease.
16. Electrolyte Imbalances.
17. Miscellaneous Electrocardiographic Findings.
Index.
What's New
*Over 100 abnormalities are reviewed organized by category
*New, more illustrative ECG strips have been selected for 27 abnormalities
*Dedicated page for each ECG strip with accompanying text on facing page makes it easy to interpret the images
*Extensive introduction on the interpretation of normal ECGs and normal variants compared to abnormal variants treated in the rest of the text