Podcasting 101 for Training and Development: Challenges, Opportunities, and Solutions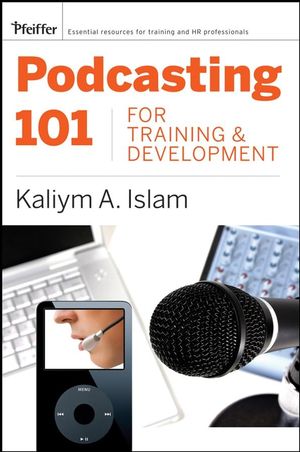 Podcasting 101 for Training and Development: Challenges, Opportunities, and Solutions
ISBN: 978-0-787-99765-6
Jul 2007, Pfeiffer
250 pages
Product not available for purchase
Description
Podcasting 101 for Training and Development

Podcasting can help you revolutionize the way you deliver training. This groundbreaking book provides an innovative approach to designing and developing podcasts that can improve employees' productivity by providing them with easy-to-access up-to-date information. The book is designed to help you to decide if podcasting is the right solution for the business challenge that your organization is facing, and then guide you to make the right decisions in selecting the software and hardware that you will use to create your podcasts.

Podcasting 101 for Training and Development includes critical information about the legal issues surrounding podcast development, contains an approach to developing podcasts that will ensure that your podcasts make a positive business impact, and teaches you how to plan, record, edit, and publish a training podcast.

"Timely and relevant, Podcasting 101 for Training and Development is required reading for anyone interested in realistic cost-effective strategies for delivering rapidly changing content to an increasingly mobile-enabled workforce. Kaliym strikes a perfect balance between visionary thinking and practical application."
--Tai Goodwin, principal lead, Learning Media

"This book introduces not only a great media, but a great approach for developing and deploying podcasts in a training environment. Podcasting 101 for Training and Development is a must read for any training manager who must deploy frequently changing training programs to a distributed workforce."
--Herman C. Thomas, deputy director for technical training, New York City Housing Authority
List of Tables, Figures, and Exhibits.
Foreword.
Preface.
Part One: The Background.
1. Training Today.
2. Podcasting for Training.
3. Legal Issues to Consider When Creating Podcasts.
4. Hardware and Software Requirements for Podcasting.
Part Two: Developing and Distributing Training Podcasts.
5. Overview of the Podcast Development Process.
6. Define and Measure: The Concept Stage.
7. Analyze and Design: The Pre-Production Stage.
8. The Production Stage.
9. The Post-Production Stage.
10. The Distribution Stage.
Appendixes.
1. Windows Podcasting Software.
2. Macintosh Podcast Software.
3. Audio Recording Software.
4. A Podcaster's Glossary.
5. Turning Presentations into Podcasts.
6. Helpful Podcasting Resources.
Index.
About the Author.
"Readers who are new to the podcasting phenomenon and those who must deploy a session quickly can painlessly access the information they need to get the job done right." (
T + D Magazine
, 10/2007)
"…a well written manual that can take an individual from no knowledge of the subject of podcasting to implementation of an entire training regimen…" (armchairinterviews.com, 8/14/2007)