Poland in the Modern World: Beyond Martyrdom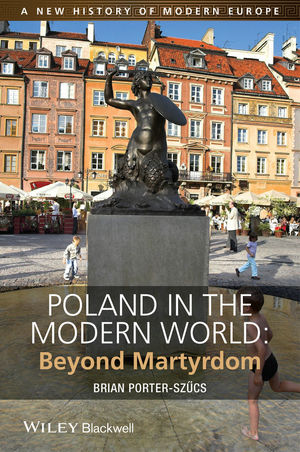 Poland in the Modern World: Beyond Martyrdom
ISBN: 978-1-444-33218-6
Mar 2014
390 pages
Description
Poland in the Modern World presents a history of the country from the late nineteenth century to the present, incorporating new perspectives from social and cultural history and positioning it in a broad global context
Challenges traditional accounts Poland that tend to focus on national, political history, emphasizing the country's 'exceptionalism'.
Presents a lively, multi-dimensional story, balancing coverage of high politics with discussion of social, cultural and economic changes, and their effects on individuals' daily lives.
Explores both the regional diversity within Poland and the country's place within Europe and the wider world.
Provides a new interpretive framework for understanding key historical events in Poland's modern history, including the experiences of World War II and the postwar communist era.
List of Figures vi
Acknowledgments ix
Pronunciation Guide x
Introduction 1
1 Poles without Poland, 1795–1918 6
2 The Political Landscape at the Start of the 20th Century 43
3 Nation and/or Revolution, 1914–22 65
4 The Ambivalence of Democracy and Authority, 1922–39 90
5 Hyperinflation and Depression: The Interwar Period 105
6 Jews, Ukrainians, and Other Poles in the Interwar Period 126
7 World War II, 1939–45 144
8 Conquest or Revolution? 1945–56 186
9 The Year 1956 and the Rise of National Communism 231
10 Communism and Consumerism 258
11 The End of the PRL, 1976–89 285
12 Shock Therapy 328
13 Politics in the Third Republic 348
Index 367
"While the authors largely agree that the main motif of Polish history is the way in which leaders and communities pursued modernization and nationalization in the modern era, each writes about these topics in unique and fascinating ways." (Pol-int.org, 1 October 2015)
"Brian Porter-Szucs's new book Poland in the Modern World: Beyond Martyrdomis like a breath of fresh air . . . In sum, this is a splendid book and an optimistic one. Porter-Szucs tries to find some good in everyone (well, maybe not in Stalin), for which he is to be commended. This reviewer believes that his book will become the standard general work on recent Polish history." (The Polish Review, 1 October 2014)
""Moving in a new direction, Porter-Szûcs' work adds an important and distinct voice to the fray. It is a genuine attempt to look at Poland's history through that new prism of a transnational spirit. It forces us to look at history in different ways—from the outside in, from the bottom up—and to rethink it in significant ways. Ultimately, at times, it challenges us to reconsider the existing master narrative."" (Cosmopolitan Review, 1 October 2015)
"Poland in the Modern World is a valuable contribution to central and eastern European historiography and the study of Communist and post-Communist societies. In presenting sophisticated insights from a variety of disciplines and from a comparative perspective, the author characterizes Poland's history of the last two centuries as a history of neither winners nor losers. In doing so, he gets beyond stereotypes and clichés about the country, particularly the ""national martyrology"" that informs much of Polish historiography." (H-SAE, February 2015)
"Well researched, engagingly written, and full of striking anecdotes, Brian Porter-Szûcs's Poland in the Modern World deserves a wide readership." (Slavic Review, 1 October 2014)


THE SUB-TITLE 'BEYOND MARTYRDOM' OF THIS HISTORY OF POLAND alludes to the author's aspiration.
This is not yet another romanticised narrative of the exceptionalism of Poland's travails. Instead,
Porter-Szűcs contextualises modern Polish history to show how it relates to other countries in the same
period.
""The sub-title 'Beyond Martyrdom' of this history of Poland alludes to the author's aspiration. This is not yet another romanticised narrative of the exceptionalism of Poland's travails. Instead,Porter-Szűcs contextualises modern Polish history to show how it relates to other countries in the same period."" (Europe-Asia Studies 2015)