Policy Paradox: The Art of Political Decision Making, 3rd Edition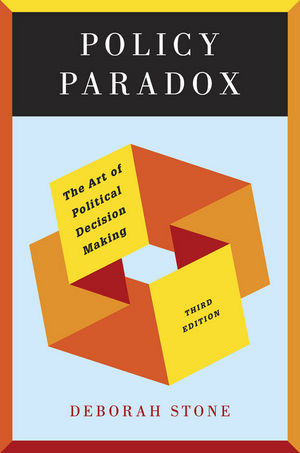 Policy Paradox: The Art of Political Decision Making, 3rd Edition
ISBN: 978-0-393-91272-2
*Norton agency titles
408 pages
Product not available for purchase
Description
The most accessible policy text available.

Policy making is a political struggle over values and ideas. By exposing the paradoxes that underlie even seemingly straightforward policy decisions, Policy Paradox shows students that politics cannot be cleansed from the process in favor of "rationality." Author Deborah Stone has fully revised and updated this popular text, which now includes many paradoxes that have arisen since September 11. Examples throughout the book have been updated, and the prose has been streamlined to make a great read even better.
PART I: POLITICS
Chapter 1: The Market and the Polis
PART II: GOALS
Chapter 2: Equity
Chapter 3: Efficiency
Chapter 4: Welfare
Chapter 5: Security
Chapter 6: Liberty
PART III: PROBLEMS
Chapter 7: Symbols
Chapter 8: Numbers
Chapter 9: Causes
Chapter 10: Interests
Chapter 11: Decisions
PART IV: SOLUTIONS
Chapter 12: Incentives
Chapter 13: Rules
Chapter 14: Persuasion
Chapter 15: Rights
Chapter 16: Powers
A NEW CHAPTER ON SECURITY
How do societies protect their citizens from harm? This new chapter tackles the paradoxes that arise as societies confront all sorts of potential harms, from terrorism to natural disasters.
ENGAGINGLY WRITTEN, FULLY UPDATED, AND STREAMLINED
Deborah Stone has a flair for storytelling and a great sense of humor-and as a result, this book will engage students as few other textbooks can. In the new edition, Stone has streamlined the presentation, cutting 10-15 percent of the prose, and updated the examples to include more political stories that will be familiar to today's students.
AN ALTERNATIVE TO RATIONAL CHOICE ANALYSIS
Policy Paradox offers a needed alternative (or complement) to economics-based or rational choice books that treat policy making and policy analysis as distinct from one another-the former as a messy political process, the latter as a clinical, "rational" exercise.