Political Ideas and Political Action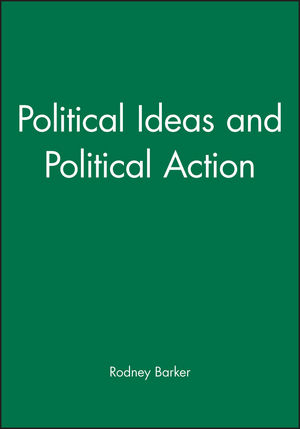 Political Ideas and Political Action
ISBN: 978-0-631-22142-5
Jun 2001
192 pages
Description
From foreign policy to environmental protection, from gender equality to the rule of law, politics is constructed by thinking. This book reflects a growing recognition of political thinking as a dimension, perhaps the single most important dimension, of the activity of politics in the contemporary world, and in all previous worlds as well.
1. Hooks and Hands, Interests and Enemies: Political Thinking as Political Action: Rodney Barker (London School of Economics and Political Science).
2. Feminist Ideas and Domestic Violence Policy Change: Stefania Abrar, Joni Lovenduski & Helen Margetts (National Lottery Charities Board).
3. Zealot Politics and Democracy: The Case of the New Christian Right: Steve Bruce (University of Aberdeen).
4. Studying Political Ideas: A Public Political Discourse Approach: Andrew Chadwick (University of the West of England).
5. Practising Ideology and Ideological Practices: Michael Freeden (Mansfield College, Oxford).
6. Pluralism and Toleration in Contemporary Political Philosophy: John Gray (London School of Economics and Political Science).
7. Philosophic Tramps: W. H. Greenleaf.
8. Disposing of Dicey: From Legal Autonomy to Constitutional Discourse? Carol Harlow (London School of Economics and Political Science).
9.
Sustainable Development-a New(ish) Idea for a New Century? James Meadowcroft (University of Sheffield).
Nine studies by leading political scientists of the intellectual dimension of political action, and the active dimension of political thinking
.


From pluralism and tolerance to environmentalism and apartheid. How does political thinking mesh with political action?
.