Political Scandal: Power and Visability in the Media Age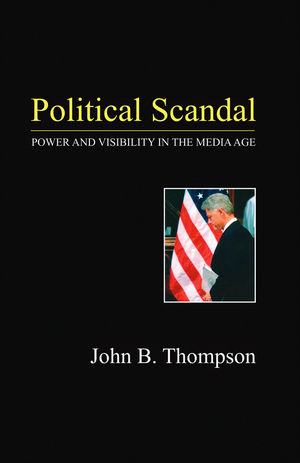 Political Scandal: Power and Visability in the Media Age
ISBN: 978-0-745-65705-9 April 2013 Polity 336 Pages
Description
Political scandals have become a pervasive feature of many societies today. From Profumo to the cash-for-questions scandal, from Watergate to the Clinton-Lewinsky affair, scandals have come to play a central role in politics and in the shaping of public debate. What are the characteristics of political scandals and why have they come to assume such prominence today? What are the social and political consequences of the preoccupation with political scandal in the public domain?
In this major new book Thompson develops a systematic and wide-ranging analysis of the phenomenon of political scandal. He shows that the rise of political scandal is linked to the changes brought about by the development of communication media, which have transformed the nature of visibility and altered the relations between public and private life. He analyses the characteristics of scandals as mediated events and he explains why mediated scandals in the political field have become increasingly prevalent in recent years.

Distinguishing between three basic types of political scandal, Thompson reconstructs the development of sex scandals, financial scandals and what he calls 'power scandals' in Britain and the United States, showing how scandals unfold and how they form part of distinctive political cultures of scandal. In the final chapter, Thompson develops an original theoretical account of political scandal and its consequences which highlights the connections between scandal, reputation and trust.

This book is a path-breaking analysis of a troubling phenomenon which has become a central feature of public life in our societies today. It will be of great interest to students of sociology, politics, and media and cultural studies. It will also appeal to a wider readership interested in social and political issues.
Table of contents
List of Illustrations.
Preface.
Acknowledgements.
Introduction.
1. What is Scandal?.
2. The Rise of Mediated Scandal.
3. Scandal as a Mediated Event.
4. The Nature of Political Scandal.
5. Sex Scandals in the Political Field.
6. Financial Scandals in the Political Field.
7. Power Scandals.
8. The Consequences of Scandal.
Conclusion.
Notes.
Index.
Reviews
'This beautifully written book explains a central paradox of modern political life: why the most powerful men are threatened by the risk of scandals which undermine their power. I won't give away the argument because it reads like a thriller.'
Ulrich Beck, University of Munich
'This is the most thoughtful, best grounded work ever on the subject of political scandal. It is indispensable for anyone who seeks to understand the growing place of scandal-centered politics in our time.' Michael Schudson, University of California, San Diego

'This is an incisive and disturbing book. John Thompson goes far beyond newspaper accounts of scandal. He makes of scandal a subject which unlocks important secrets about political power. A must read.' Richard Sennett, London School of Economics

'[A] cool, shrewd and revealing exposé of the apparatus of scandal ... In a climate of almost perpetual moral indignation, there is an undeniable frisson to reading a text on scandal that does not sermonise and denounce dodgy politicians and/or unscrupulous muckrakers. Thompson's work is virtually a compact encyclopaedia of modern scandal, but it is above all an overarching theory of the genre, keeping a detached but sympathetic distance from heroes, clowns and victims alike ... an illuminating book.' Andy Martin, The Independent

'Excellent analysis ... from Polity, at the cleverer end of the trade.' Andrew Marr, booksonline

"What is unique about this work is not just that the author focuses on the role of the media...but that the author brings many of these disparate elements together in what is perhaps the first systematic and comprehensive theory of scandal available to scholars" C.J.Spiliotes. Canadian Journal of Political Science

Political Scandal has been awarded the coveted European Amalfi Prize for Sociology and Social Sciences for 2001.

"Thompson's aim is not simply to re-narrate and codify, rather to refelct on what scandal's prominence reveals about the character of power in the "media age", developing a "social theory" of scandal's "conditions and consequences." The Times Higher Education Supplement

"This book has a lot to say about mediated political scandals -including their roots and consequences in liberal democratic societies- and his author says it very, very well....highly illuminating journey through media, political and cultural history.... I cannot recommend this book highly enough for any of several audiences..." Amy Binder, Social forces

"Thompson's approach to the analysis of political scandal brings together social science and discourse theories in a dynamic combination, thus illustrating how discourse analysts can learn from social scientists, and vice versa. The volume is a very useful reference for practitioners and students in media, political and critical discourse analysis." Discourse & Society
Features
The first attempt to develop a systematic analysis of political scandal, drawing on comparative and historical materialWide-ranging and up-to-date, it covers most of the major political scandals in Britain and the United States, from Profumo to the cash for questions scandal, from Watergate to Whitewater and the Clinton-Lewinsky affairDevelops an original theory about the nature and consequences of political scandal