Political Theory Today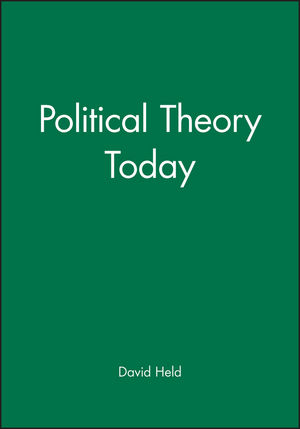 Political Theory Today
ISBN: 978-0-745-60856-3 September 1991 Polity 372 Pages
Download Product Flyer
Download Product Flyer
Download Product Flyer is to download PDF in new tab. This is a dummy description. Download Product Flyer is to download PDF in new tab. This is a dummy description. Download Product Flyer is to download PDF in new tab. This is a dummy description. Download Product Flyer is to download PDF in new tab. This is a dummy description.
Description
This volume provides a comprehensive overview of the central questions and debates in contemporary political thought and offers guidelines for the reformulation of political theory in the light of the philosophical and substantive problems it faces today.
The book includes discussion of the nature of political obligation; the interrelation of equality and liberty; gender; the public and the private; principles of justice and the conditions of their realization; democratic politics and the forms of representation; sovereignty, the nation-state and the international system; the role of international law; and war and the legitimate use of force.
The volume is composed of major new essays by leading scholars in political theory from Europe, Africa and the United States: John Dunn, Stephen Lukes, Susan Moller Okin, Andrew Reeve, Jon Elster, Claus Offe, Ulrich Preuss, Iain McLean, David Held, Charles Beitz, Antonio Cassese, Onora O'Neill, Samir Amin and Agnes Heller. Students and academics in political theory, and those in the social sciences concerned with contemporary political thought, will all be interested in this book.
Table of contents
Introduction: David Held.
1. Political Obligation: John Dunn.
2. Equality and Liberty: Must They Conflict? Steven Lukes.
3. Gender, the Public and the Private: Susan Moller Okin.
4. The Theory of Property: Andrew Reeve.
5. The Possibility of Rational Politics: Jon Elster.
6. Democratic Institutions and Moral Resources: Claus Offe.
and Ulrich K. Preuss.
7. Forms of Representation and Systems of Voting: Iain McLean.
8. Democracy, the Nation State and the Global System: David Held.
9. Sovereignty and Morality in International Affairs: Charles Beitz.
10. Violence, War and the Rule of Law in the International Community: Antonio Cassese.
11. Transnational Justice: Onora O'Neill.
12. The State and Development: Samir Amin.
13. The Concept of the Political: Agnes Heller.
Index.
Reviews
'An outstanding set of original papers that will be of great value to anyone interested in contemporary political theory. What is especially impressive about the books is the balance of essays on issues of domestic and international politics.'
Joshua Cohen, Massachusetts Institute of Technology
'Something for everyone from the neophyte to the hardened professional. Especially valuable is the emphasis on the important and relatively neglected subject of international political morality.' Brian Barry, London School of Economics
'It is the great merit of David Held's collection that almost all the contributors feel the need to unite normative political philosophy with a theory of the political and social systems of modern states. They seek to illuminate and modify recent theories of rights and justice by applying them to a whole series of issues which have been marginalized or ignored by contemporary political philosophers.' Times Higher Education Supplement
'The core themes of this collection are more pressing than ever. Social and political theory have a real part to play in recasting societies and this volume is a valuable contribution towards that.' Sociological Review
'Political Theory Today is a scrupulously edited collection of original essays on representative themes in contemporary political theory. It is valuable and important in a number of ways. It will be widely used on courses. All of the essays are interesting, some of them outstandingly so.' International Affairs
Features
* This volume offers a major review of political theory.
* The book is written by some of the most distinguished political thinkers in the US, Europe and Africa.
* Previous books by the editor have sold extremely well, and this will be no exception.