Politics, Sociology and Social Theory: Encounters with Classical and Contemporary Social Thought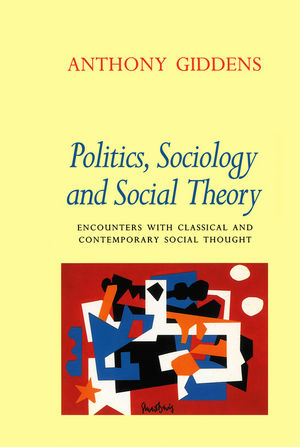 Politics, Sociology and Social Theory: Encounters with Classical and Contemporary Social Thought
ISBN: 978-0-745-66656-3 May 2013 Polity 312 Pages
Description
Built upon a series of critical encounters with major figures in classical and present-day social and political thought, this volume offers not only a challenging critique of major traditions of social and political analysis, but unique insights into the ideas which Giddens has developed over the past two decades.
Preface.
Introduction.
1. Politics and Sociology in the Thought of Max Weber.
2. Marx, Weber and the Development of Capitalism.
3. Durkheim's Political Sociology.
4. Durkheim and the Question of Individualism.
5. Comte, Popper and Positivism.
6. 'Power' in the Writings of Talcott Parsons.
7. The Improbable Guru: Re-reading Marcuse.
8. Garfinkel, Ethnomethodology and Hermeneutics.
9. Habermas on Labour and Interaction.
10. Foucault, Nietzsche and Marx.
Notes.
Index.
"In this generation no one has contributed more than he to both our understanding of the history of social thought and the development of social theory. The pieces republished
in Politics, Sociology and Social Theory
are worth reading again, for they offer critically informed engagements with diverse figures from the history of social theory."
Times Higher Education Supplement
"A valuable collection of papers ... Giddens's own work is a striking exception to the sterility of post-socialist social thought. The present volume shows Giddens at his refreshingly iconoclastic best ... These are all profoundly instructive contributions, which confirm Giddens's standing as the pre-eminent social theorist of his generation." John Gray, Times Literary Supplement
* A comprehensive introduction to some of the main debates preoccupying the social sciences and politics today.
* Offers a challenging critique of major traditions of social and political analysis.
* A unique insight into Anthony Giddens' classical writings on major figures such as Weber, Durkheim, Habermas, Garfinkel and Foucault.