Politics and Human Rights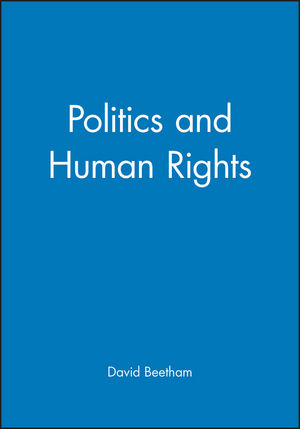 Politics and Human Rights
ISBN: 978-0-631-19666-2
Jan 1996, Wiley-Blackwell
232 pages
Description
This volume of specially commissioned articles is devoted to a consideration of how the subject of human rights impacts on contemporary politics and on the discipline of political science. It assesses the role of human rights in political theory, international law and international relations and in relation to the politics of different regions of the world. An international group of contributors includes political scientists, political philosophers, academic lawyers and those with experience of human rights campaigning.
Introduction:.
Human Rights in the Study of Politics D. Beetham (Leeds University). Human Rights and Political Theory:.
1. Human Rights in Political Theory: S Mendus (York University).
2. Are There Collective Human Rights?: M Freeman (Essex University).
3. What Future for Economic and Social Rights?: D. Beetham (Leeds University). Human Rights in a Global Context:.
4. State Sovereignty and Human Rights: Towards a Global Constitutional Project: A Rosas (Abo Akademi University).
5. Stock Taking on Human Rights: The World Conference on Human Rights, Vienna 1993: K Boyle (Essex University).
6. The Role and Limits of Human Rights NGOs at the United Nations: R Brett (Quaker United Nations Office).
7. Human Rights and US Foreign Policy: Two Levels, Two Worlds: D P Forsythe (Nebraska-Lincoln University). Regional Perspectives on Human Rights.
8. Human Rights and the New Europe: Experience and Experiment: H Storey (Leeds University).
9. Relativism and Universalism in Human Rights; The Case of the Islamic Middle East: F Halliday (London School of Economics & Political Science).
10. Human Rights in the Processes of Transition and Consolidation of Democracy in Latin America: F Panizza (Institute of Latin American Studies, London University).
11. Human Rights and Democratisation in Africa: S Kaballo (Sudan Human Rights Organisation).
12. Regime Security and Human Rights in Southeast Asia: K Christie (Natal University).
* Unique in human rights literature for its attention to the politics of human rights, and its location of human rights in political theory and practice.
* Unique in political science literature for its treatment of the way the subject of human rights affects all branches of the discipline; international relations, regional and comparative politics, political theory.
* Develops 'politics and human rights' as a serious subject of study.
* An essential textbook for this field.