Politics and Nation: England 1450 - 1660, 5th Edition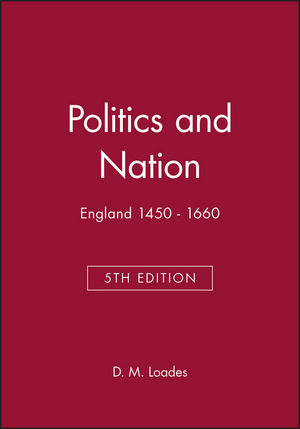 Politics and Nation: England 1450 - 1660, 5th Edition
ISBN: 978-0-631-21459-5
Jun 1999, Wiley-Blackwell
488 pages
Description
This political narrative of the rise and fall of the Tudor monarchy examines the relationship between the crown and the aristocracy.
Preface to the Fifth Edition.
Preface to the Fourth Edition.
Preface to the Third Edition.
Introduction.
Part I: The Eclipse of the Medieval Monarchy, 1450-1521:.
1. The Lack of Governance.
2. The Collapse of Obedience.
3. The Restoration of Authority.
4. The Foundation of the Tudor Monarchy.
Part II: The Establishment and Testing of the Tudor Monarchy, 1521-1570:.
5. The Administration of Cardinal Wolsey.
6. Thomas Cromwell and the Crisis of Authority.
7. Henry VIII and his Legacy.
8. Religious Reaction and the Spanish Marriage.
9. A New Queen and a New Identity.
Part III: The Decline of the Tudor Monarchy, 1571-1629:.
10. The Years of Stability.
11. The Stresses of War.
12. The New King and the Old Problems.
13. The Ascendancy of the Duke of Buckingham.
Part IV: The Collapse of Traditional Government, 1630-1660:.
14. The Failure of Communication.
15. Constitutional Stalemate and Civil War.
16. The Fall of the Monarchy, and Military Dictatorship.
Historiographical Appendix.
Notes.
Select Bibliography.
Index.
"A subtle and persuasive narrative, lucidly and judiciously presented. The work is a continuously interesting narrative of two centuries in transition." The Times (review of the previous edition)
* Revised and redesigned new edition of a well known text.
* Provides the reader with an accessible narrative history of the politics of the Tudor monarchy.
* Includes a new epilogue discussing recent historiographical issues and the enduring significance of the work, and an updated bibliography.