Politics and Philosophy: The Necessity and Limitations or Rational Argument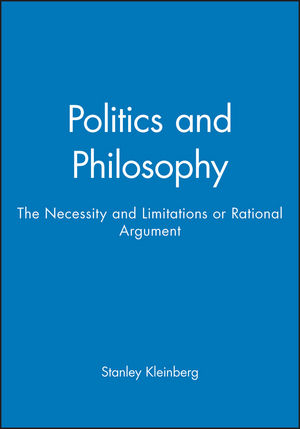 Politics and Philosophy: The Necessity and Limitations or Rational Argument
ISBN: 978-0-631-16075-5
Aug 1991, Wiley-Blackwell
224 pages
Description
This book demonstrates how an interest in political argument leads naturally to a philosophical way of thinking. It analyses both practising politicans and political theorists and is a much needed introudction to two vitally important, and independent, disciplines.
1. Aims.
2. Political and Philosophical Thinking.
3. Liberalism.
4. Conservatism.
5. Socialism.
6. The Place of Philosophy.
Notes.
Guide to Further Reading.
Index.
"Kleinberg does his topic of study, and the portrayal of his text, justice. Politics and Philosophy is a most welcome and welcoming text." Times Higher Education Supplement
* Does not simply draw conclusions on issues of political philosophy, but sets them within wider philosophical concerns. * Unlike many interdisciplinary textbooks it does not lean in favour of one or the other. * Relates questions of political theory to contemporary political debate.