Politics and Society in Imperial Rome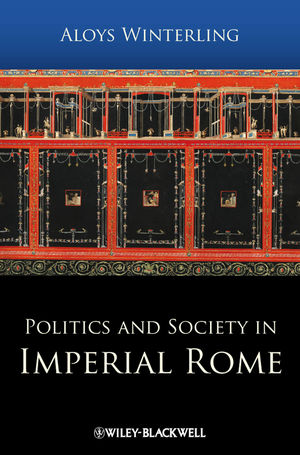 Politics and Society in Imperial Rome
ISBN: 978-1-405-17969-0 July 2009 Wiley-Blackwell 176 Pages
Description
Politics and Society in Imperial Rome
offers fresh new interpretations of the politics, society, and culture Rome's imperial era.
Argues that the early principate was fundamentally incompatible with the persisting structures of the Roman Republic
Demonstrates how these contradictory systems affected the development of Roman society
Includes case studies on the imperial court and the emperor Caligula, as well as chapters on the scholarship of Theodor Mommsen and Christian Meier
Table of contents
1. Introduction: Toward a New Interpretation of Imperial Rome.
Part I: Paradoxical Structures:
2. ""State,"" ""Society,"" and Political Integration.
3. Friendship and Patron–Client Relations.
4. ""Public"" and ""Private"".
Part II: Two Cases in Point:
5. A Court without ""State."" The aula Caesaris.
6. Meaningful Madness. The Emperor Caligula.
Part III: Academic Approaches:
7. Theodor Mommsen's Theory of ""Dyarchia"".
8. Christian Meier's ""Crisis without Alternative"" in Ancient Rome.
Editorial Note.
Index.
Reviews
"This is, in a nutshell, the argument of Aloys Winterling in this stimulating collection of essays. Winterling's work is well known to German readers and this volume will hopefully bring the attention of a non
?]
German audience to it. The articles collected in this volume span the last ten years, and although written on different occasions they show remarkable coherence. The thesis presented above is constantly restated from different points of view. Repetition is inevitable, but this is a minor fault: the author's arguments and methodology are new and sophisticated, and deserve to be well understood." (
Bryn Mawr Classical Review
, May 2010)
Features
Offers a fresh interpretation of the politics, society, and culture of imperial Rome
Argues that the early principate was fundamentally incompatible with the persisting structures of the Roman Republic
Demonstrates how these contradictory systems affected the development of Roman society
Includes case studies on the imperial court and the emperor Caligula, as well as chapters on the scholarship of Theodor Mommsen and Christian Meier