Politics in Deeply Divided Societies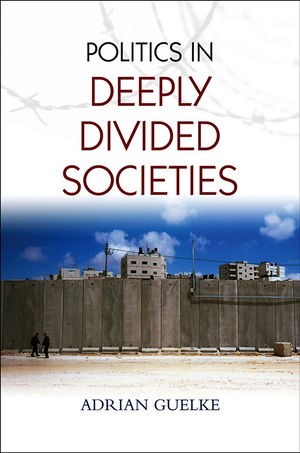 Politics in Deeply Divided Societies
ISBN: 978-0-745-64849-1 May 2012 Polity 184 Pages
Download Product Flyer
Download Product Flyer
Download Product Flyer is to download PDF in new tab. This is a dummy description. Download Product Flyer is to download PDF in new tab. This is a dummy description. Download Product Flyer is to download PDF in new tab. This is a dummy description. Download Product Flyer is to download PDF in new tab. This is a dummy description.
Description
The establishment of durable, democratic institutions constitutes one of the major challenges of our age. As countless contemporary examples have shown, it requires far more than simply the holding of free elections. The consolidation of a legitimate constitutional order is difficult to achieve in any society, but it is especially problematic in societies with deep social cleavages.
This book provides an authoritative and systematic analysis of the politics of so- called 'deeply divided societies' in the post Cold War era. From Bosnia to South Africa, Northern Ireland to Iraq, it explains why such places are so prone to political violence, and demonstrates why - even in times of peace - the fear of violence continues to shape attitudes, entrenching divisions in societies that already lack consensus on their political institutions.
Combining intellectual rigour and accessibility, it examines the challenge of establishing order and justice in such unstable environments, and critically assesses a range of political options available, from partition to power-sharing and various initiatives to promote integration. The Politics of Deeply Divided Societies is an ideal resource for students of comparative politics and related disciplines, as well as anyone with an interest in the dynamics of ethnic conflict and nationalism.
Table of contents
Preface vi
List of Tables viii
1 Introduction 1
2 The Characteristics of Deeply Divided Societies 13
3 Violence, Order and Justice 33
4 The Challenge of Policing 55
5 Limits to Integration 77
6 Partition and Population Transfer 95
7 Power-Sharing and Political Accommodation 113
8 External Mediation 133
9 Conclusion 154
Bibliography 161
Index 168
Reviews
"A very good introductory text for anyone interested in the sources of divisions in pluralistic societies, as well as the successes and failures of the management of intercommunal differences - highly recommended."
Global Policy

"An authoritative guide. It will likely remain a touchstone text for those working in conflict management or peace studies for many years to come."
Central European Journal of International and Security Studies

"A native of Northern Ireland, Guelke's close encounters with his home country's violent political past shines throughout this volume. He provides a rich study of Northern Ireland, as wells as wide range of contemporary examples including post-apartheid era South Africa, the break-up of Yugoslavia, communal violence in India, the 2011 referendum creating South Sudan, among others."
LSE Review of Books

"A comprehensive analysis of the poitics of moderately and deeply divided societies."
Economic & Political Weekly

"A distinguished expert in deeply divided societies, Guelke skilfully unpacks the challenges facing societies divided by ethnicity, religion, and race and tackles the critical dilemmas encountered by those seeking to design durable conflict-mitigating institutions. The Politics in Deeply Divided Societies will stimulate current scholarship and nurture the next generation of students."
Neophytos G. Loizides, University of Kent
"This volume offers a highly readable and sophisticated analysis of deeply divided societies - countries that are at the root of both domestic strife and international conflict. Guelke's treatment is a concise but impressive tour de force of an essential area of ethnic politics. This is a must-read for anyone interested in the management of inter-ethnic conflict and in the promotion of sustainable democracy in some of the world's least stable polities."
Ilan Peleg, Middle East Institute, Washington, DC
"Politics in Deeply Divided Societies provides a comprehensive, lucid and deeply insightful analysis of societies struggling with ethnic, religious, class and other divisions that often produce violence and failed political systems. Drawing on a wide range of important cases, this excellent book also assesses lucidly the varying consequences of these struggles, for instance partition, and offers a balanced presentation of techniques for overcoming them."
David E. Schmitt, Northeastern University
Features
Drawing on a wide range of examples from across the world, this is an engaging and authoritative introduction to the politics of 'deeply divided societies'
Adrian Guelke expertly explains why particular types of social structure are prone to violence, and why conflict can remain a risk even after formal peace settlements
The book assesses the full range of political options for stabilizing these volatile regions, drawing on a rich set of contemporary examples.
This book will be ideal for students of peace and conflict studies as well as related disciplines.