Polyethylene-Based Biocomposites and Bionanocomposites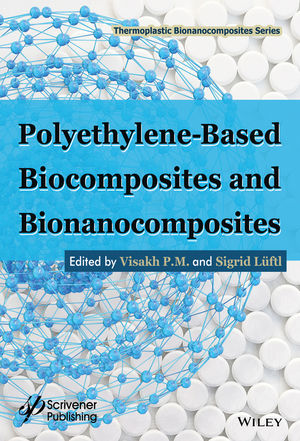 Polyethylene-Based Biocomposites and Bionanocomposites
ISBN: 978-1-119-03844-3 October 2016 480 Pages
Description
Biodegradable polymers have experienced a growing interest in recent years for applications in packaging, agriculture, automotive, medicine, and other areas. One of the drivers for this development is the great quantity of synthetic plastic discarded improperly in the environment. Therefore, R&D in industry and in academic research centers, search for materials that are reprocessable and biodegradable.
This unique book comprises 12 chapters written by subject specialists and is a state-of-the-art look at all types of polyethylene-based biocomposites and bionanocomposites. It includes deep discussion on the preparation, characterisation and applications of composites and nanocomposites of polyethylene-based biomaterials such as cellulose, chitin, starch, soy protein, PLA, casein, hemicellulose, PHA and bacterial cellulose.
Preface xv
1 Polyethylene-based Biocomposites and Bionanocomposites: State-of-the-Art, New Challenges and Opportunities 1
Sigrid Luftl and Visakh. P. M.
1.1 Introduction 2
1.2 History of the Synthesis of Polyethylene: From Fossil Fuels to Renewable Chemicals 5
1.3 Commercial Significance of PE and Bio(nano) Composites 8
1.4 State-of-the-Art 10
1.5 Preparation Methods for Nanocomposites and Bionanocomposites 28
1.6 Environmental Concerns with Regard to Nanoparticles 29
1.7 Challenges and Opportunities 30
References 31
2 Polyethylene/Chitin-based Biocomposites and Bionanocomposites 43
Meriem Fardioui, Abou El Kacem Qaiss and Rachid Bouhfid
2.1 Introduction 43
2.2 Preparation of Biocomposites and Bionanocomposites 45
2.3 Characterization of Biocomposites and Bionanocomposites 50
2.4 Applications 62
2.5 Conclusions and Perspectives 64
References 65
3 Polyethylene/Starch-based Biocomposites and Bionanocomposites 69
Yasaman Ganji
3.1 Introduction 69
3.2 Polyethylene/Starch-based Composite 70
3.3 Conclusion 91
Abbreviations 92
References 93
4 Polyethylene/Soy Protein-based Biocomposites:
Properties, Applications, Challenges and Opportunities 99
H. Ismail, S. T. Sam and K. M. Chin
4.1 Introduction 99
4.2 Processing of Soy Protein 101
4.3 Effect of Different Compatibilizers on Polyethylene/Soy Protein-based Biocomposites 102
4.4 Opportunity and Challenges 161
References 163
5 Polyethylene/Hemicellulose-based Biocomposites and Bionanocomposites 167
K. Sudhakar, N. Naryana Reddy, K. Madhusudhana Rao, S. J. Moloi, A. Babul Reddy and E. Rotimi Sadiku
5.1 Introduction 167
5.2 Hemicellulose Structure 170
5.3 Hemicellulose Properties 176
5.4 Hemicellulose-based Biocomposites 177
5.5 Hemicellulose-based Bionanocomposites 186
5.6 Hemicellulose Applications 190
5.7 Conclusion 191
Acknowledgment 192
References 192
6 Polyethylene/Polyhydroxyalkanoates-based Biocomposites and Bionanocomposites 201
Oluranti Agboola, Rotimi Sadiku, Touhami Mokrani, Ismael Amer, Mapula Lucey Moropeng and Munyadziwa Mercy Ramakokovhu
6.1 Introduction 202
6.2 Polyethylene/Polyhydroxyalkanoates-based Biocomposites and Bionanocomposites 202
6.3 Conclusions 255
Abbreviations 256
References 257
7 Polyethylene/Other Biomaterials-based Biocomposites and Bionanocomposites 279
A. Babul Reddy, B. Manjula, K. Sudhakar, V. Sivanjineyulu, T. Jayaramudu and E. R. Sadiku
7.1 Introduction 279
7.2 Polyethylene/Lignin-based Biocomposites and Bionanocomposites 284
7.3 Polyethylene/Alginate-based Biocomposites and Bionanocomposites 296
7.4 Polyethylene/Casein-based Biocomposites and Bionanocomposites 302
7.5 Conclusions 307
References 308
8 Studies of Polyethylene-based Biocomposites, Bionanocomposites and Other Non-Biobased Nanocomposites 315
Norshahida Sarifuddin and Hanafi Ismail
8.1 Introduction 316
8.2 Studies of Polyethylene-based Biocomposites 317
8.3 Studies of Polyethylene-based Bionanocomposites 327
8.4 Studies of Polyethylene and Other Non-biobased Nanocomposites 334
8.5 Concluding Remarks 338
References 338
9 Biodegradation Study of Polyethylene-based Biocomposites and Bionanocomposites 345
Sumana Ghosh
9.1 Introduction 345
9.2 Biopolymer-based Biocomposites 346
9.3 Biopolymer-based Bionanocomposites 347
9.4 Applications of Biopolymer-based Biocomposites and Bionanocomposites 347
9.5 Biodegradation 349
9.6 Biodegradation Study of Cellulose-based Biocomposites/Bionanocomposites 350
9.7 Biodegradation Study of Chitin-based Biocomposites/Bionanocomposites 352
9.8 Biodegradation Study of Starch-based Biocomposites/Bionanocomposites 353
9.9 Biodegradation Study of Hemicellulose-based Biocomposites/Bionanocomposites 355
9.10 Biodegradation Study of Polylactic Acid-based Biocomposites/Bionanocomposites 356
9.11 Biodegradation Study of Polyhydroxyalkanoates-based Biocomposites/Bionanocomposites 357
9.12 Conclusions 360
Acknowledgments 360
References 360
10 Polyethylene-based Bio- and Nanocomposites for Packaging Applications 365
Paula A. Zapata and Humberto Palza
10.1 Introduction 366
10.2 Polyethylene-based Nanocomposites 369
10.3 Polyethylene-based Biocomposites 383
10.4 Polyethylene-based Bionanocomposites 393
10.5 Conclusions 397
References 398
11 Properties and Utilization of Plant Fibers and Nanocellulose for Thermoplastic Composites 405
Nadir Ayrilmis, Alireza Ashori and Jin Heon Kwon
11.1 Introduction 406
11.2 Plant Fibers 407
11.3 Nanocellulose 418
11.4 Conclusions 424
References 425
12 Modification of Poly(lactic acid) Matrix by Chemically Modified Flax Fiber Bundles and Poly(ethylene glycol) Plasticizer 429
A. Arbelaiz, J. Trifol, C. Pena-Rodriguez, J. Labidi and A. Eceiza
12.1 Introduction 429
12.2 Experimental 431
12.3 Results and Discussion 433
12.4 Conclusions 442
Acknowledgments 443
References 443
Index 447