Polymer Composites, 3 Volume Set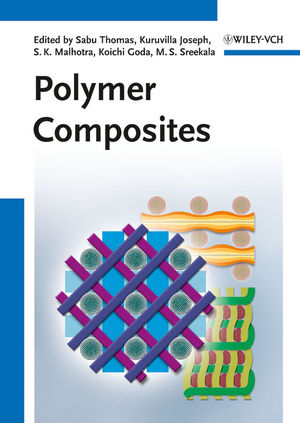 Polymer Composites, 3 Volume Set
ISBN: 978-3-527-32985-4
Nov 2013
1744 pages
Description
The first systematic reference on the topic with an emphasis on the characteristics and dimension of the reinforcing filler

Volume One begins by discussing the state of the art, new challenges, and opportunities of macro and micro composites.
Volume Two focuses on nanoparticles, investigating their synthesis, surface modification and characterization, as well as the manufacturing technology of nanocomposites and their interface modification and characterization.
Volume Three on biocomposites discusses the synthesis, structure and properties of natural and synthetic biopolymers, as well as the preparation, microstructure and properties of biofibers, together with their surface modification, characterization, and manufacturing.
VOLUME 1 -
MACRO AND MICRO COMPOSITES
Part 1: Introduction to Polymer Composites
State of the Art, New Challenges and Opportunities /
Micro and Macro Mechanics of Polymer Composites /
Interfaces in Micro and Macro Composites /
Preparation and Manufacturing Techniques for Macro and Micro Polymer Composites
Part 2: Macro Systems
Fiber Reinforced Polymer Composites
Carbon Fibre /
Glass Fibre /
Kevlar Fibre /
Polyester Fibre /
Nylon Fibre /
Polyolefin Fibre /
Silica Fibre Reinforced Polymer Composites
Textile Composites
2d and 3d Woven Fabric Composites
Poylmer Composites as Geotextiles
Polymer Hybrid Composites
Part 3: Micro Systems
Micro Particle Reinforced Polymer Composites
Synthesis, Surface Modification and Characterization of Micro Particulate Fillers and Flakes /
Carbon Black Filled /
Silica Filled /
Metall Filled /Mica Filled Polymer Micro Composites
Applications of Macro and Micro Filler Reinforced Polymer Composites
Recovery, Recycling and Life Cycle Analysis of Synthetic Polymeric Composites
VOLUME 2 -
NANOCOMPOSITES
State of the Art -
Nanomechanics
Synthesis, Surface Modification and Characterization of Nanoparticles
Manufacturing Technology of Nanocomposites
Interface Modification of Nanocomposites
Characterisation of Nanocomposites
Morphology Characterization /
NMR and ESR Characterization /
Scattering Methods /
Mechanical and Visco Elastic Characterization /
Optical Analysis /
Barrier Property Analysis /
Thermal Analysis /
Accoustic Emission Technique /
Theory and Simulation
Nanoclay Filled Plastic Composites
Nanoclay Filled Rubber Composites
Carbon Nanotube Filled Polymer Composites
Health Hazards, Recycling and Life Cycle Analysis of Nanomaterials and Their Composites
Applications of Nanocomposites
VOLUME 3 -
BIOCOMPOSITES
State of the Art -
Biocomposites
Synthesis, Structure and Properties of Natural and Synthetic Biopolymers
Preparation, Microstructure and Properties of Biofibers
Surface Modification and Characterisation of Biofibres
Manufacturing and Characterization of Biofibres
Manufacturing and Processing of Biocomposites
Biofibre Reinforced Thermoset Composites
Biofibre Reinforced Thermoplastic Composites
Hybrid Biofibre Composites
Textile Biocomposites
Bionanocomposites
Fully Biodegradable Green Composites
Application and Future Scope of Green Composites
Environmental Effects, Biodegradation and Life Cycle Analysis of Fully Biodegradable Green Composites