Polymer Surfaces and Interfaces III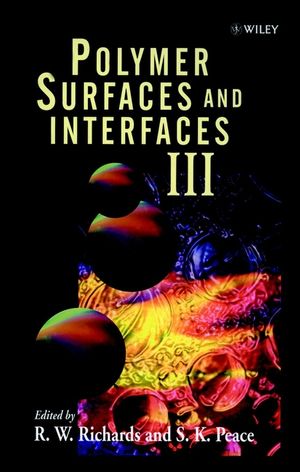 Polymer Surfaces and Interfaces III
ISBN: 978-0-470-86547-7 November 2000 316 Pages
Description
A collection of papers by some of the foremost authorities in polymer science, this volume explores the state of the art of surface science techniques and related applications. It presents a variety of topics illustrating surface and interfacial aspects of polymer science, and provides the theoretical and technical background necessary to predict the behavior of materials.
- Covers nearly all surface analysis techniques available today
- Expands on material presented by leading experts at the third Polymer Surfaces and Interfaces conference in Durham, in 1997
Application of Ellipsometry to Polymers at Interfaces and in Thin Films (D. Styrkas, et al.).

MeV Ion Beam Profiling of Polymer Surfaces and Interfaces (M. Geoghegan).

Phase Separation in Thin Films of Strongly Incompatible Polymer Blends (S. Walheim, et al.).

Mechanical Properties of Polymer Interfaces (C. Creton).

Neutron Reflectivity for the Study of Polymer Interfaces (R. Jones).

Modification of Electrode Surfaces with Electroactive Polymers (A. Hillman, et al.).

Interactions of Tethered Polyelectrolytes in Poor Solvents (C. Singh, et al.).

Viscoelastic Properties of Polymer Films from Surface Quasi-Elastic Light Scattering (S. Peace & M. Taylor).

Magnetic Resonance Relaxation and Imaging (P. McDonald & D. Lane).

Surface Modification for Adhesion Minimization in Aqueous Environments (W.-L. Chen & K. Shull).

Atmospheric versus Low-Pressure Plasma Oxidation of Rubber Surfaces (S. Wheale, et al.).

Index.