Polymers: Fibers and Textiles, A Compendium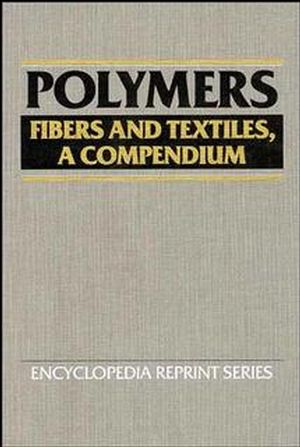 Polymers: Fibers and Textiles, A Compendium
ISBN: 978-0-471-52211-9
Feb 1990
867 pages
Description
Features carefully selected reprints from the world-renowned Encyclopedia of Polymer Science and Engineering. Contains complete articles written by leading authorities from industry, universities, and research institutes and provides specialists in the fields of fibers, textiles, and nonwoven fabrics with a wealth of information at their fingertips. The full texts, tables, figures, and references from the original work are reproduced here unchanged. Introductory material concerning nomenclature, SI units and conversion factors, and related information is included. Further enhanced by alphabetical organization, extensive cross references and a complete index.
Acrylic Fibers.

Cellulose Esters, Organic Fibers.

Composites, Fabrication.

Cotton.

Dyeing.

Fabrics, Coated.

Fibers.

Fibers, Elastomeric.

Fibers, Engineering.

Fibers, Manufacture.

Fibers, Vegetable.

Flammability.

Identification, Fibers.

Keratin.

Leatherlike Materials.

Nonwoven Fabrics.

Olefin Fibers.

Polyamides, Fibers.

Polyesters, Fibers.

Rayon.

Recreational Surfaces.

Silk.

Textile Resins.

Tires.