Polymers and Light: Fundamentals and Technical Applications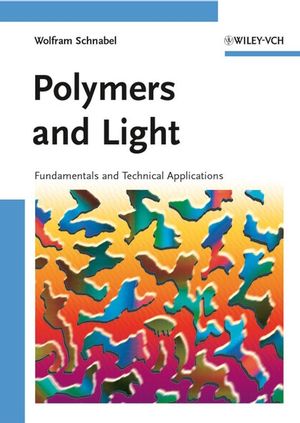 Polymers and Light: Fundamentals and Technical Applications
ISBN: 978-3-527-61102-7
Apr 2007
396 pages
Description
This first book to focus on the important and topical effect of light on polymeric materials reflects the multidisciplinary nature of the topic, building a bridge between polymer chemistry and physics, photochemistry and photophysics, and materials science.
Written by one experienced author, a consistent approach is maintained throughout, covering such applications as nonlinear optical materials, core materials for optical waveguides, photoresists in the production of computer chips, photoswitches and optical memories.
Advanced reading for polymer, physical and organic chemists, manufacturers of optoelectronic devices, chemical engineers, and materials scientists.
Introduction
LIGHT-INDUCED PHYSICAL PROCESSES IN POLYMERS
Absorption of Light and Subsequent Photophysical Processes
Photoconductivity
Electro-optic and Nonlinear Optical Phenomena
Photorefractivity
Photochromism
Technical Developments Related to Photophysical Processes in Polymers
LIGHT-INDUCED CHEMICAL PROCESSES IN POLYMERS
Photoreactions in Synthetic Polymers
Photoreactions in Biopolymers
Technical Developments Related to Photochemical Processes in Polymers
LIGHT-INDUCED SYNTHESIS OF POLYMERS
Photopolymerization
Technical Developments Related to Photopolymerization
MISCELLANEOUS TECHNICAL DEVELOPMENTS
Polymers in Optical Memories
Polymeric Photosensors
Polymeric Photocatalysis