Polyphosphazenes for Biomedical Applications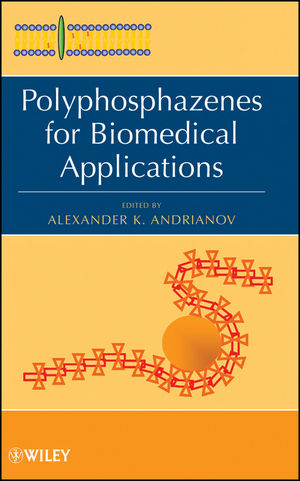 Polyphosphazenes for Biomedical Applications
ISBN: 978-0-470-19343-3 August 2009 480 Pages
Description
Brings together, analyzes, and contextualizes the latest findings and practical applications
Polyphosphazenes, an emerging class of polymers, include macromolecules, which have been proven to be biocompatible, biodegradable, and bioactive. Their unprecedented structural diversity and unique properties make them suitable as vaccine adjuvants, microencapsulating agents, biodegradable materials, scaffolds for tissue engineering, biocompatible coatings, and carriers for gene delivery.
Polyphosphazenes for Biomedical Applications offers a thorough review of polyphosphazene research findings in the life sciences, chemistry, and chemical engineering. It emphasizes biomedical applications as well as recent advances in polyphosphazene development such as high-throughput discovery and the latest controlled methods of synthesis. The book brings together, analyzes, and contextualizes a wealth of knowledge that previously could only be found scattered throughout the scientific literature.
Following two introductory chapters, the book reviews:
Vaccine delivery and immunomodulation

Biomaterials

Drug delivery systems

Biodetection

Well-defined polyphosphazenes: synthetic aspects and novel molecular architectures
All the chapters have been written by leading researchers in the field. Editor Alexander Andrianov, who has led the effort to commercialize polyphosphazenes for biomedical applications, has carefully reviewed and edited all chapters to ensure readability, accuracy, and thoroughness.
Polyphosphazenes for Biomedical Applications is not only intended for researchers working in polyphosphazene chemistry, but also for all researchers seeking solutions to problems arising in the areas of biomaterials, drug delivery systems, and controlled release formulations.
CONTRIBUTORS.
PREFACE.
I INTRODUCTION.
1 Polymers for Biology and Medicine - Current Status and Future Prospects (Alexander K. Andrianov and Robert Langer).
2 Expanding Options in Polyphosphazene Biomedical Research (Harry R. Allcock).
II VACCINE DELIVERY AND IMMUNOMODULATION.
3 Polyphosphazenes as Vaccine Delivery Systems (Alexander K. Andrianov).
4 The Potential of Polyphosphazenes in Modulating Vaccine-Induced Immune Responses I: Investigations In Mice (George Mutwiri, Ponn Benjamin, Alexander K. Andrianov, and Lorne Babiuk).
5 The Potential of Polyphosphazenes in Modulating Vaccine-Induced Immune Responses II: Investigations In Large Animals (George Mutwiri and Lorne Babiuk).
6 Polyphosphazenes as Adjuvants for Inactivated and Subunit Rotavirus Vaccines in Adult and Infant Mice (Kari Johansen, Jorma Hinkula, Claudia Istrate, Elin Johansson, Didier Poncet, and Lennart Svensson).
7 Polyphosphazene Immunoadjuvants for Intradermal Vaccine Delivery (Alexander K. Andrianov, Daniel P. DeCollibus, Helice A. Gillis, Henry H. Kha, Alexander Marin).
III BIOMATERIALS.
8 Biodegradable Polyphosphazene Scaffolds for Tissue Engineering (Syam P. Nukavarapu, Sangamesh G. Kumbar, Harry R. Allcock and Cato T. Laurencin).
9 Biodegradable Polyphosphazene Blends for Biomedical Applications (Meng Deng, Lakshmi S. Nair, Nicholas R. Krogman, Harry R. Allcock, Cato T. Laurencin).
10 Polyphosphazenes from Condensation Polymerization (Patty Wisian-Neilson).
11 Electrospun Polyphosphazene Nanofibers For In Vitro Osteoblast Culture (Maria Teresa Conconi, Paolo Carampin, Silvano Lora, Claudio Grandi, Pier Paolo Parnigotto).
12 Phosphazenes and Surfaces (Mario Gleria, Roberto Milani, Roberta Bertani, Angelo Boscolo Boscoletto, and Roger De Jaeger).
IV DRUG DELIVERY SYSTEMS.
13 Amphiphilic Ionizable Polyphosphazenes for the Preparation of pH-Responsive Liposomes (David Ghattas and Jean-Christophe Leroux).
14 Poly- and Cyclophosphazenes as Drug Carriers for Anticancer Therapy (Youn Soo Sohn and Yong Joo Jun).
15 Amphiphilic Polyphosphazenes as Drug Carriers (Liyan Qiu and Cheng Zheng).
16 Synthesis and Characterization of Organometallic Derivatives of Polyphosphazenes and their Applications in Nanoscience (Carlos Diaz and M. L. Valenzuela).
17 Transport Properties of Polyphosphazenes (Joel R. Fried).
V BIODETECTION.
18 Potentiometric Monitoring Antibody-Antigen Interactions by and Stabilization of Polyanilineand Electrodes with p-Sulfonated Poly(bisphenoxyphosphazene) (Byeongyeol Kim, Alexander K. Andrianov, Alok Prabhu, Vladimir Sergeyev, and Kalle Levon).
VI WELL-DEFINED POLYPHOSPHAZENES: SYNTHETIC ASPECTS AND NOVEL MOLECULAR ARCHITECTURES.
19 Synthesis and chemical regularity in phosphazene copolymers (Gabino A. Carriedo).
20 Supramolecular Structures of Cyclophosphazenes(Alexander Steiner
APPENDIX A.
INDEX.