Pop Music, Pop Culture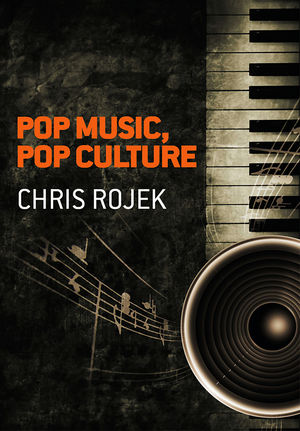 Pop Music, Pop Culture
ISBN: 978-0-745-64263-5
Jun 2011, Polity
216 pages
Description
What is happening to pop music and pop culture? Synthesizers, samplers and MDI systems have allowed anyone with basic computing skills to make music. Exchange is now automatic and weightless, with the result that the high street record store is dying. MySpace, Twitter and YouTube are now more important publicity venues for new bands than the concert tour routine. Unauthorized consumption in the form of illegal downloading has created a financial crisis in the industry. The old postwar industrial planning model of pop, which centralized control in the hands of major record corporations, and divided the market into neat segments, is dissolving in front of our eyes.

This book offers readers a comprehensive guide to understanding pop music today. It provides a clear survey of the field and a description of core concepts. The main theoretical approaches to the analysis of pop are described and critically assessed. The book includes a penetrating investigation of the revolutionary changes in the production, exchange and consumption of pop music that are currently underway.

Pop Music, Pop Culture is an accomplished, magnetically interesting guide to understanding pop music today.
Buy Both and Save 25%!
Original Price:$149.90
Purchased together:$112.43
save $37.47
Cannot be combined with any other offers.
Buy Both and Save 25%!
Original Price:$134.90
Purchased together:$101.18
save $33.72
Cannot be combined with any other offers.
Introduction: Why 'Pop' Not Popular?
Part I: The Field
1: The Field of Pop Music Study
2: The Urban-Industrial Backbeat
Part II: Theoretical Perspectives
3: Structuralist Approaches
4: Agency Approaches
Part III: The Mode of Production
5. Roots
6: Corporations and Independents
7: Artists, Managers and Audiences
8: Technology and Media
Part IV: Conclusion: Co-operative Labour, Inc.
Bibliography

"This book's conclusion is like a pop song that ends with an unexpected major chord."
Steven Poole, The Guardian
"This is an indispensable systematisation of pop music cultural theory incorporating a vast sweep of references."
Jon Stewart, Brighton Institute of Modern Music, for Times Higher Education "What Are You Reading?"
"This well-organized and well-written book takes a sweeping look at various approaches to the study of popular music, including a musicological one ... An excellent learning tool and a fantastic contribution to the literature."
Choice
"'Pop' is popular with huge listening audiences and not with many music critics - not even as a category to describe a big segment of popular music. Chris Rojek challenges standard ways of dividing the commercial from the authentic and the light from the serious. He does this by a creative engagement with theory and by systematic analysis of issues from modes of distribution to subcultures, the power of record companies, and the nature of collaborative labor and joint authorship. His book is a must-read intervention for all of cultural studies."
Craig Calhoun, New York University
"Joining extraordinary empirical range with shrewd, unflinching theoretical judgment, Rojek has produced a major sociological work on contemporary popular culture. Even as Pop Music, Pop Culture explores the rapidly shifting technological and economic infrastucture of music, Rojek shows us how music connects us to structures of meaning and feeling, and how in a mobile and de-territoralized world, popular music remains ever more important for that."
Jeff Alexander, Yale University
An accessible, theoretically-informed overview of popular music today
Clearly elucidates a broad range of theories around popular music and popular culture
More up-to-date than other texts available, the book deals with technology and the changing dynamics of the music industry
Written by a well-regarded scholar of popular culture and sociology, who is able to bring on board insights across these disciplines.