PopUp Republic: How to Start Your Own Successful Pop-Up Space, Shop, or Restaurant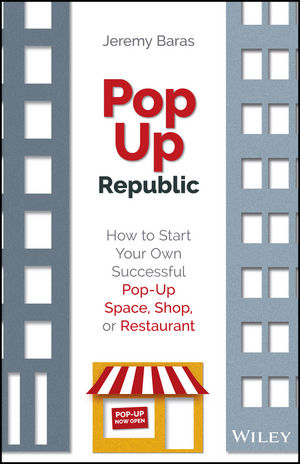 PopUp Republic: How to Start Your Own Successful Pop-Up Space, Shop, or Restaurant
ISBN: 978-1-119-14591-2
Oct 2015
224 pages
Product not available for purchase
Description
Find out how to get in on the booming pop-up scene
PopUp Republic: How to Start Your Own Successful Pop-Up Space, Shop, or Restaurant is your comprehensive guide to the new world of pop-ups. This fresh text dives into the details of the pop-up industry, offering you a first-hand glimpse at pop-up success through stories, examples, anecdotes, and case studies. Additionally, if you have the entrepreneurial spirit and want to embark on your own pop-up journey, this forward-thinking resource features a guide to launching your own pop-up. Based upon a wealth of experience and knowledge, this book shines a spotlight on the differences between the pop-up industry in the United States and Europe, discusses the tools you need to create a successful pop-up, defines what, exactly, a pop-up is, the costs and benefits of the pop-up business model, the permits, insurance, and licenses that are needed to run a pop-up, and more.
A $50-billion industry, pop-ups have become key features of the business landscape in cities around the world. From retail shops to restaurants, a wide range of customer-facing enterprises are embracing the pop-up trend.
Follow the launch and operation of a successful pop-up, and learn from the experiences of other entrepreneurs
Analyze case studies that shed light on the successes and challenges that pop-ups have faced
Leverage expert guidance in building your own pop-up business model
Identify how the pop-up industry is changing retail, dining, and entertainment industries on a global level
PopUp Republic: How to Start Your Own Successful Pop-Up Space, Shop, or Restaurant takes a close look at the emerging pop-up industry—and at the ways in which this industry is disrupting traditional business models to make room for innovative entrepreneurs.
Preface ix
Acknowledgments xiii
Introduction xv
The Pop-Up Industry 1
What Is a Pop-Up? 3
The Makings of PopUp Republic 7
Pop-Ups: The State of the Nation 17
Pop-Ups: The State of the World 19
The Size of the Pop-Up Industry in the United States 23
The Case for Pop-Up Urbanism as a Tool to Vitalize Local Economies 31
Interview with Florence Hardy, an Urban Economic Development Professional About Pop-Ups 37
Becoming a "Popupreneur" 41
Are You a Good Candidate to Host a Pop-Up? 43
A Day in the Life of a Popupreneur 47
Choosing a Concept 49
Creating a Concept vs. Creating a Concept That Sells 51
What to Expect 57
How to Manage It All 59
The Day-to-Day 61
What Is Success? 63
Customers 65
The Execution 67
Pop-Up Shops 69
Interview with Greg Spielberg, Founder of Imagination in Space 73
Planning Your Pop-Up Business 79
Staffing 87
Pop-Up Restaurants 91
Food Trucks 97
Interview with Jeff Wang, Owner/Operator of Yum Dum Food Truck in Chicago, Illinois 101
Fashion Trucks 105
Interview with Laura Layton, Owner of Tin Lizzy Mobile Boutique 111
Pop-Up Spaces 115
Interview with Aaron Gadiel, Shopping Center Executive 123
Farmers Markets 127
Flea Markets 129
Yard Sales 133
The Ideal Pop-Up Customer 139
Case Study: The Launch of a Pop-Up Store 143
Pop-Up Checklist 149
What's Ahead 151
Reload, Fire, Aim 153
Interview with Shuchi Naidoo, Founder of Twenty-Nine Calories Pop-Up Restaurant 159
Look Out! Here Come the Big Brands and the Big Malls 163
Interview with Melinda Holland, SVP of Business Development, General Growth Properties 169
Interview with Patty Hirt, Retail Development at General Growth Properties 173
Pop-Ups: Why They Are Becoming Permanent 177
Why Pop-Ups Make Sense for Baby Boomers 181
About the Author 185
Index 187