Popular Culture: Production and Consumption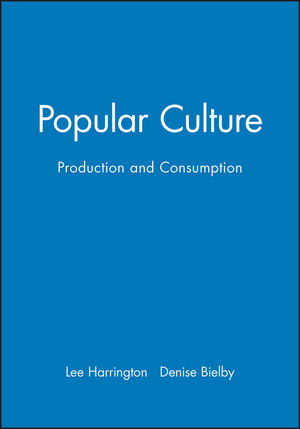 Popular Culture: Production and Consumption
ISBN: 978-0-631-21710-7 September 2000 Wiley-Blackwell 364 Pages
Description
This is a rich collection of contemporary perspectives on how culture is produced and commodified using current examples from music, television, magazines, sports, and advertising. Incorporating a variety of theoretical frameworks, the book addresses, in addition, issues of social and cultural diversity in readings by key scholars that are accessible and provocative for both students and academics.
List of Contributors.
Acknowledgments.
1. Constructing the Popular: Cultural Production and Consumption: C. Lee Harrington and Denise D. Bielby.
Part I: What is Popular?:.
2. Making Artistic Music Popular Music: The Goal of True Folk: John Blacking.
3. Batman, Deviance, and Camp: Andy Medhurst.
4. Take Me Out to the Ball Game: The Transformation of Production-Consumption.
Relations in Professional Team Sport: Kimberly S. Schimmel.
5. Art Appreciation at Caesar's Palace: Mel McCombie.
Part II: Cultural Production/Commodification:.
6. Art as Collection Action: Howard S. Becker.
7. Commodity Lesbianism: Danae Clark.
8. Alternative to What?: Tom Frank.
9. Imagineering the Inner City?: Landscapes of Pleasure and the Commodification of Cultural Spetacle in the Postmodern City: Scott Salmon.
Part III: Taste, Reception, and Resistance: .
10. Encoding/Decoding:.
Stuart Hall.
11. (Male) Desire and (Female) Disgust: Reading Hustler: Laura Kipnis.
12. Hang Up My Rock and Roll Shoes: The Cultural Production of Rock and Roll: Harris Friedberg.
13. Site Reading?: Globalization, Identity and the Consumption of Place in Popular Music: Minelle Mahtani and Scott Salmon.
14. Diasporic Noise: History, Hip Hop, and the Post-colonial Politics of Sound: George Lipsitz.
Part IV: Authoring Texts/Readers Reading: .
15. The Concept of Formula in the Study of Popular Literature: John G. Cawelti.
16. The Task of the Translator: An Introduction to the Translation of Baudelaire's Tableux Parisien: Walter Benjamin.
17. Intertextuality: John Fiske.
18. On Reading Soaps: A Semiotic Primer: Robert C. Allen.
19. Don't Have to DJ No More: Sampling and the "Autonomous" Creator: David Sanjek.
Part V: Celebrity and Fandom:.
20. The Assembly Line of Greatness: Celebrity in Twentieth-Century America: Joshua Gamson.
21. Mountains of Contradictions: Gender, Class, and Region in the Star Image of Dolly Parton: Pamela Wilson.
22. Fandom as Pathology: Joli Jenson.
23. Scottish Fans, not English Hooligans! Scots, Scottishness, and Scottish Football: Gary P. T. Finn and Richard Giulianotti.
Index.
"In putting together a reader on Hustler, football hooligans, hip-hop, soap operas, and Dolly Parton, Harrington and Bielby demonstrate excellent taste. If you find that statement improbable, you will expand your horizons by taking a look at the superb scholarship contained in this collection. If, on the other hand, you think it perfectly plausible, you will use this book anyway to teach your courses, to guide your research, and to deepen your understanding of the cultural seas in which we all swim."
Wendy Griswold, Northwestern University

"This book is a most welcome addition to the field of media studies. Harrington and Bielby have chosen wisely by including a range of historical and more contemporary pieces that explore the production-consumption nexus in fresh and innovative ways. Art, music, prime-time television, movies, sports, video games, urban landscapes, all of this and more, will lead students and scholars alike to think comparatively about popular culture." Ron Lembo, Amherst College
A Demonstrates links between how culture is produced and consumed.
A Covers wide range of examples found in popular culture.
A Adopts a cross-disciplinary approach.
A Includes both classic and contemporary essays as well as new articles written especially for this volume.