Popular Culture in Ancient Rome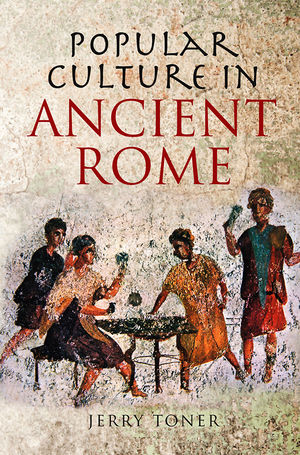 Popular Culture in Ancient Rome
ISBN: 978-0-745-65490-4 April 2013 Polity 264 Pages
Description
The mass of the Roman people constituted well over 90% of the population. Much ancient history, however, has focused on the lives, politics and culture of the minority elite. This book helps redress the balance by focusing on the non-elite in the Roman world. It builds a vivid account of the everyday lives of the masses, including their social and family life, health, leisure and religious beliefs, and the ways in which their popular culture resisted the domination of the ruling elite.

The book highlights previously under-considered aspects of popular culture of the period to give a fuller picture. It is the first book to take fully into account the level of mental health: given the physical and social environment that most people faced, their overall mental health mirrored their poor physical health. It also reveals fascinating details about the ways in which people solved problems, turning frequently to oracles for advice and guidance when confronted by difficulties. Our understanding of the non-elite world is further enriched through the depiction of sensory dimensions: Toner illustrates how attitudes to smell, touch, and noise all varied with social status and created conflict, and how the emperors tried to resolve these disputes as part of their regeneration of urban life.

Popular Culture in Ancient Rome offers a rich and accessible introduction to the usefulness of the notion of popular culture in studying the ancient world and will be enjoyed by students and general readers alike.

Table of contents
List of Illustrations vi
Acknowledgements vii
Introduction: Elite and Popular Cultures 1
1. Problem-solving 11
2. Mental Health 54
3. The World Turned Bottom Up 92
4. Common Scents, Common Senses 123
5. Popular Resistance 162
Conclusion: Towards a Christian Popular Culture 185
Notes 198
Select Bibliography 228
Index 248
Reviews
"No-one could accuse Jerry Toner of a lack of empathy with those who take centre stage in his gripping new study ... He makes excellent use of Roman jokes, such as those collected in the
Philogelos
, which steps lightly through the misfortunes of life, from filthy streets to child mortality."
London Review of Books
"A spirited, engaging and politically committed introduction to the culture of the 'non-elite' in the Roman Empire. Toner's achievement is to open up the world of the Roman tavern, rather than the senate house; the world of the garret rather than the villa."
Mary Beard, Times Literary Supplement
"Plenty of vivid detail, with more laughter, tears and farting than most books on 'everyday life' in Rome. It is a rollicking read and wears its considerable scholarship lightly."
European Review of History
"This is a marvellous book on a neglected subject. On the basis of a rich mosaic of documents supplemented by comparative evidence, Toner has produced a sharply analytical reading of popular culture in Rome, which is both very instructive and highly entertaining."
Peter Garnsey, University of Cambridge

"Toner presents an intellectually courageous account of Roman popular culture that will engage the imaginative sympathies of scholar and general reader alike.  This is a brisk, accessible study, rich in data and conceptually well-informed."
Thomas Habinek, University of Southern California 
What's New
A vivid account of the everyday life of the non-elite masses in the Roman world
Includes consideration of social and family life, health, leisure and religious beliefs, and resistance through popular culture to the ruling elite
The first book to take fully into account mental health in the ancient world
Also gives particular attention to sensory dimensions, illustrating how attitudes to smell, touch, and noise all varied with social status