Population and Political Theory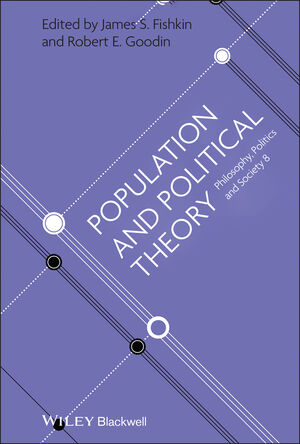 Population and Political Theory
ISBN: 978-1-444-33038-0
Mar 2010, Wiley-Blackwell
336 pages
Description
Part of the acclaimed Politics and Society series, Population and Political Theory brings together leading thinkers in the fields of philosophy, political science, economics, and social policy to address issues at the convergence of population policy and political theory.
Offers a single-volume, systematic overview of philosophical issues relating to population
Represents a unique merging of discussions of population policy with political theory
Broad in scope, the diverse discussions will appeal to political philosophers, population specialists, and public policy makers
Notes on Contributors.
Acknowledgments.
Introduction: Population & Political Theory (James S. Fishkin & Robert E. Goodin)
1. Population & Ethics: Expanding the Moral Space (Sissela Bok)
2. Should We Value Population? (John Broome)
3. Regarding Optimum Population (Partha Dasgupta)
4. On Doing the Best for Our Children (Derek Parfit)
5. Shaping Future Children: Parental Rights and Societal Interest (Dan W. Brock)
6. On Future Generations' Future Rights (Axel Grosseries)
7. Justice Between Adjacent Generations: Further Thoughts (Norman Daniels)
8. Generations at War or Sustainable Social Policy in Ageing Societies (Thomas Lindh, Bo Malmberg and Joakim Palme)
9. Dependency, Difference and Global Ethic of Longterm Care (Eva Feder Kittay with Bruce Jennings and Angela Wasunna)
10. Live-in Domestics, Seasonal Workers, and Others Hard to Locate on the Map of Democracy (Joseph H. Carens)
11. Immigrants, Nations and Citizenship (David Miller)
12. Justice in Migration: A Closed Borders Utopia? (Lea Ypi )
13. The Ethics of Refugee Policy (Peter Singer and Renata Singer)
"This volume will prove to be rewarding reading for all graduate students and scholars in social policy, demography, ethics and political theory who are interested in population issues."  (Social Policy & Administration, 1 February 2013)
"As a result the book is both accessible to the uninitiated and valuable to the initiated.  Overall, it represents an excellent resource for political philosophers, population theorists and policy makers."  (Political Studies Review, 10 March 2012)
Offers a single-volume, systematic overview of philosophical issues relating to population
Features contributions from top scholars in the fields of philosophy, political science, economics, and social policy
Represents a unique merging of discussions of population policy with political theory
Broad in scope, the diverse discussions will appeal to political philosophers, population specialists, and public policy makers