Porn - Philosophy for Everyone: How to Think With Kink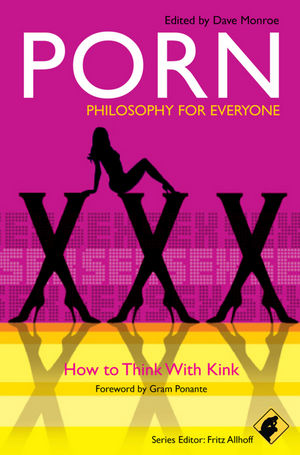 Porn - Philosophy for Everyone: How to Think With Kink
ISBN: 978-1-444-34137-9 January 2011 Wiley-Blackwell 280 Pages
Description
This anthology takes the ever-controversial discussion of pornography out of solely academic circles; it expands the questions about porn that academics might tackle and opens the conversation to those who know it best—the creators and users of porn.
Features essays on non-traditional issues in porn, including celebrity sex tapes, virtual sex, S&M, homosexual porn, and technology's impact on the porn industry
Features fascinating insights from psychologists, a lawyer, and an English professor, as well as industry insiders such as Dylan Ryder
A fun, entertaining, and philosophically provocative approach to pornography, written for the general reader
Acknowledgments (
Dave Monroe
).
Foreword: Filling in the Cave (Gram Ponante).
Dirty Mindedness: An Introduction to Porn - Philosophy for Everyone (Dave Monroe).
Part I: Lights, Camera, Action!: Sundry Sexy Thoughts.
1 The Jizz Biz and Quality of Life (Dylan Ryder and Dave Monroe).
2 Strange Bedfellows: The Interpenetration of Philosophy and Pornography (Andrew Aberdein).
Part II: The Pornographic Mind: Psychology and Porn.
3 Yes. Yes! Yes!! What do Mona's Moans Tell us About her Sexual Pleasure? (Anne K. Gordon and Shane W. Kraus).
4 Pornography as Simulation (Theodore Bach).
5 Brothers' Milk: The Erotic and the Lethal In Bareback Pornography (Casey McKittrick).
Part III: Between the Sheets: Porn Ethics and Personal Relationships.
6 Strange Love, or: How I Learned to Stop Worrying and Love Porn (Tait Szabo).
7 Cheating with Jenna: Monogamy, Pornography and Erotica (Fiona Woollard).
8 Celebrity Sex Tapes: A Contemporary Cautionary Tale (Darci Doll).
Part IV: Talking Dirty: Legal Issues and Free Speech.
9 One Man's Trash is another Man's Pleasure: Obscenity, Pornography, and the Law (Jacob M. Held).
10 What's Wrong with Porn? (Mimi Marinucci).
11 Bumper Stickers and Boobs: Why the Free Speech Argument for Porn Fails (J.K. Miles).
Part V: The Art of Dirty: Porn and Aesthetic Value.
12 The 'Fine Art' of Pornography? The Conflict Between Artistic Value and Pornographic Value (Christopher Bartel).
13 An Unholy Trinity: The Beautiful, The Romantic and The Vulgar (Lawrence Howe).
14 The Problem with the Problem with Pornography (David Rose).
Part VI: Porn and Technology.
15 Something for Everyone: Busty Latin Anal Nurses in Leather and Glasses (Roger T. Pipe).
16 Sex, Lies and Virtual Reality (Matthew Brophy).
Part VII: Kink: Alternative Porn and BDSM.
17 What Do Heterosexual Men Get Out of Consuming Girl-Girl Pornography? (Chad Parkhill).
18 Hit Me With Your Best Shot: The 'Violent' Controversy Surrounding SM Porn (Ummni Khan).
19 Ruminations of a Dominatriz: An Interview with Mz. Berlin (Mz. Berlin and Dave Monroe).
Appendix A: Notes on Contributors.
"I liked several of the papers, such as Woollard's "Cheating with Jenna," which draws useful distinctions between cheating on one's partner and getting sexual enjoyment from porn, which makes a worthwhile point, and Roger Pipe's "Something for Everyone," which provides a useful history of porn.  Both of these articles, as many others in the book, could be useful in an undergraduate course." (Metapsychology, February 2011)