Port Engineering: Planning, Construction, Maintenance, and Security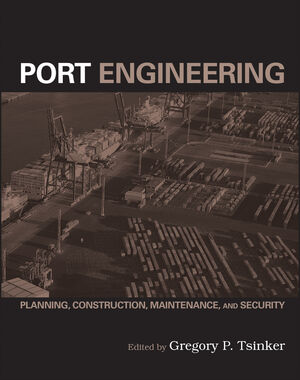 Port Engineering: Planning, Construction, Maintenance, and Security
ISBN: 978-0-471-41274-8
Feb 2004
896 pages
Description
This comprehensive book covers all major aspects of the design and maintenance of port facilities, including port planning, design loads for today's larger vessel size, seismic design guidelines, and breakwater design. New material addresses environmental concerns, the latest developments on inter-modal hubs and transfer points, and the latest information on port security and procedures being implemented around the world.
Preface.
Contributors.
Introduction.
1. Port Planning.
2. Port-Related Marine Structures.
3. Seismic Design of Port Structures.
4. Long-Term Strength of Waterfront Structures Built on Creep-Sensitive Soils.
5. Design of Revetments.
6. Repair, Rehabilitation, Maintenance, and Upgrading of Waterfront Structures.
7. Floating Terminals.
8. Offshore Moorings.
9. Breakwaters.
10. Navigation Channel Design.
11. Dredging.
12. Environmental Factors in Port Planning and Design.
13. Port Security.
Index.