Portal Hypertension: A Multidisciplinary Approach To Current Clinical Management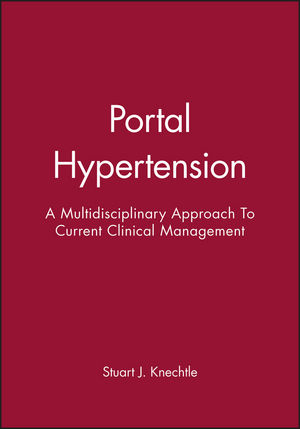 Portal Hypertension: A Multidisciplinary Approach To Current Clinical Management
ISBN: 978-0-879-93414-9 March 1999 Wiley-Blackwell 312 Pages
Download Product Flyer
Download Product Flyer
Download Product Flyer is to download PDF in new tab. This is a dummy description. Download Product Flyer is to download PDF in new tab. This is a dummy description. Download Product Flyer is to download PDF in new tab. This is a dummy description. Download Product Flyer is to download PDF in new tab. This is a dummy description.
Description
The management of portal hypertension has dramatically changed over the past 15 years. Outstanding results can now be achieved by selective applications of particular therapies and appropriate patient selection.
From natural history to pharmacologic, endoscopic, radiologic and surgical management, this work emphasizes how the new therapeutics of portal hypertension should be used based on published data, not local philosophy. In a comprehensive and multi-disciplinary manner, this book describes strategies used by gastroenterologists, radiologists and surgeons, beginning with the least invasive. Variceal banding, TIPS, liver transplants and surgical shunts are evaluated in a manner that would optimize patient outcome. Discussed with supportive data and refreshing clarity from each of the disciplines, this book concludes with a focus on current algorithms, as a general guide, for clinical decision-making in patients with portal hypertension.
No longer does this field have to live with therapeutic failure as more patients live due to successful therapy selection and treatment. This book is a timely guide for primary caregivers, surgeons, hepatologists, invasive radiologists and medical students.
Table of contents
Foreword.
L.F. Rikkers.
Introduction.
S.J. Knechtle.
1. Natural History of Esophageal Varices.
R.L. Gebhard.
2. Medical Management of Portal Hypertension.
J. Korula.
3. Endoscopic Therapy of Variceal Hemorrhage.
K.P. Block, M. Reichelderfer.
4. Transjugular Intrahepatic Portosystemic Shunts.
I.A. Sproat.
5. Surgical Shunts for Portal Hypertension.
S.J. Knechtle.
6. Peritoneovenous Shunting for Ascites.
P.D. Greig.
7. Devascularization Procedures in the Treatment of Portal Hypertension.
J.E. Tuttle-Newhall, P.A. Clavien.
8. Liver Transplantation for Portal Hypertension.
S.J. Knechtle.
9. Impact of Transjugular Intrahepatic Portosystemic Shunts on Liver Transplantation.
J.S. Odorico.
10. Portal Hypertension in Children.
A.D. Kirk, M. Kalayoglu.
11. Integrating a Multidisciplinary Approach to Management of Portal Hypertension.
S.J. Knechtle
Reviews
"An excellent reference for the clinician trying to wade through this complex subject....I highly recommend this book for anyone interested in portal hypertension."
Annals of Vascular Surgery
"This book is of high quality. Its breadth, readability, and focused approach make it particularly useful for the busy internist, family physician, or allied health professional. Its organization and clear referencing to more in depth literature also facilitate further study into a particular topic. Key Internet addresses are also referenced to facilitate access to current, peer-reviewed information. Overall, this is an excellent reference text."
Doody's Review Service
"This book provides a good overview of each of the current therapies for portal hypertension. It will be appreciated mostly by general surgeons having a special interest in this condition and by interventional radiologists, hepatogastroenterologists and intensive care specialists who deal with this complex disease."
Canadian Journal of Surgery
"...this book provides an excellent source for general surgeons, gastroenterologists, and particularly for residents and fellows in the fields of interventional radiology, hepatology, and transplantation. Overall, the book is well organized and well written."
Archives of Surgery
"Overall this book will be a good source for gastroenterologists, hepatologists, hepatobiliary surgeons and invasive radiologists involved in treating patients with portal hypertension. Trainees will find the book very informative on the modern management of portal hypertension. The book's graphical illustrations and multidisciplinary approach are a great plus. It is adequately priced at $150.00 and would make a good addition to medical libraries."
Practical Gastroenterology
"In all, this text is a useful addition to the library of physicians interested in the treatment of portal hypertension and its sequela."
Current Surgery
Features
* in a single volume, the lastest innovations in the clinical management of portal hypertension involving each of the relevant medical disciplines! * new development in understanding and treating portal hypertension! * an "evidence-derived" approach to portal hypertension treatment!