Portal Hypertension III, 3rd Edition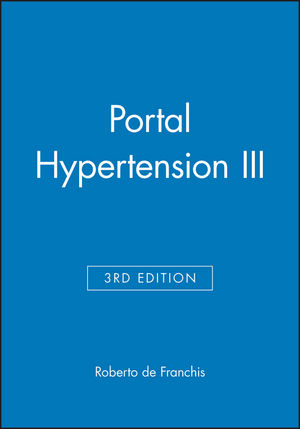 Portal Hypertension III, 3rd Edition
ISBN: 978-0-632-05918-8 February 2001 Wiley-Blackwell 272 Pages
Description
Proceedings of the Third Baveno International Consensus Workshop on Definitions, Methodology and Therapeutic Strategies.

The participants attempted to develop consensus definitions of key events in portal hypertension and variceal bleeding, diagnostic and therapeutic issues, and the complications of therapies for portal hypertension, as well as producing updated guidelines. The lectures summarized the consensus reached in the earlier workshops, addressed two important new areas of research, and analyzed the quality of trials in portal hypertension and other fields of hepatology.
Contributors, ix.
Preface, XV.
Lecture.
What have we accomplished ? 1.
Session 1.
Definition of Key Events: Lets try again, 13.
Baveno III Consensus Statements.
Lecture.
Stellate Cells: Do they have a role in portal hypertension?.
Session 2.
Diagnosis of Portal Hypertension: How and When, 36.
Baveno III Consensus Statements.
Session 3A.
Portal Hypertension Gastrotherapy, 65.
Session 3B.
Gastric Varices, 76.
Session 4.
Preprimary Prophylaxis. Can (and should) we prevent the formation and growth of varices ?.
Baveno III Consensus Statements.
Lecture.
Session 5.
Primary Prophylaxis, 127.
Session 6.
Treatment of the acute bleeding episode, 134.
Session 7.
Prevention of Recurrent Variceal Haemorrhage(Secondary Prophylaxis), 170.
Section 8.
Complications in the Medical Treatment of Portal Hypertension, 180.
Lecture.
Quality of Randomized Clinical Trials in Portal Hypertension and other Fields Hepatology, 204.
Session 9.
Methodology of Future Trials: Prognostic Stratification, Health-Related Quality of Life and Health Economics, 219.
Baveno III Consensus Statements.
Index, 241