Portal Hypertension V: Proceedings of the Fifth Baveno International Consensus Workshop, 5th Edition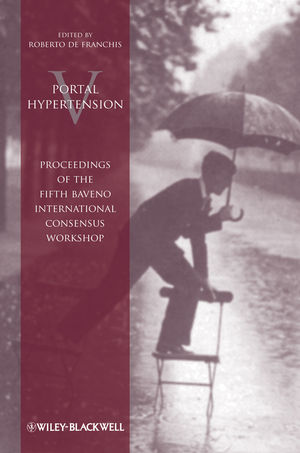 Portal Hypertension V: Proceedings of the Fifth Baveno International Consensus Workshop, 5th Edition
ISBN: 978-1-444-39397-2 April 2011 Wiley-Blackwell 256 Pages
Description
Every five years, hepatologists with an interest in portal hypertension (high blood pressure in the portal vein), gather in Baveno, Italy, for the Baveno International Consensus Workshop on Portal Hypertension, attending workshops and examining the latest in clinical data and research on this condition. This book documents the contents of the meeting so that practitioners who could not be present at the conference still have access to the proceedings.
Contributors.
Preface.
Introduction Baveno I to Baveno V . . . and Beyond (Roberto de Franchis).
SYMPOSIUM 1 DIAGNOSTIC TOOLS.
Lecture 1 Hepatic Venous Pressure Gradient, Biopsy or Both? (Guadalupe Garcia-Tsao).
Lecture 2 Elastography in the Non-Invasive Evaluation of the Extent of Fibrosis and in the Diagnosis of Portal Hypertension (Laurent Castera).
Lecture 3 Ultrasound in the Non-Invasive Evaluation of Fibrosis and Portal Hypertension (Annalisa Berzigotti, Marco Zoli, Concepcion Bru Saumell and Rosa Gilabert Sole).
Lecture 4 Non-Invasive and Minimally Invasive Diagnosis of Varices (Roberto de Franchis).
LECTURE 5 Clinical Epidemiological and Statistical Challenges in Defining, Recording and Analysing Endpoints (Thorkild IA Sørensen and Per Kragh Andersen).
SESSION 1 PRE-PRIMARY AND PRIMARY PROPHYLAXIS.
Lecture 6 Pre-primary and Primary Prophylaxis: What Has Been Done? (Carlo Merkel, Manuela Merli and Alessandra Dell'Era).
Lecture 7 Pre-Primary and Primary Prophylaxis: What ShouldWe Do Next? (Roberto J Groszmann, Cristina Ripoll and Julio Vorobioff).
Baveno V Consensus Statements Pre-primary and Primary Prophylaxis.
SESSION 2 DEFINITION OF KEY EVENTS.
Lecture 8 Failure to Control Bleeding and Failure to Control Rebleeding (Andrew K Burroughs, Dominique Thabut, Gennaro D'Amico, Flemming Bendtsen, Christophe Bureau, Paul Cales and Angels Escorsell).
Questionnaire to the Expert Panel.
Baveno V Consensus Statements Definition of Key Events Regarding the Bleeding Episode.
LECTURE 9 Should Prognostic Variables be Used to Direct Patient Management in the Acute Setting? (Mario D'Amico and Juan Carlos Garcıa-Pagan).
SESSION 3 TREATMENT OF ACUTE BLEEDING.
Lecture 10 Treatment of Acute Bleeding (Loren Laine, Shahab Abid, Agustin Albillos, Patrick S Kamath, Jean-Pierre Vinel and Juan Carlos Garcıa-Pagan).
Baveno V Consensus Statements Treatment of the Acute Bleeding Episode.
SESSION 4 PREVENTION OF REBLEEDING.
Lecture 11 Preventing Rebleeding in 2010 (Norman Grace, Gin-Ho Lo, Frederik Nevens, Tilman Sauerbruch, Peter Hayes, Candid Villanueva and Didier Lebrec).
Baveno V Consensus Statements Prevention of Rebleeding.
LECTURE 12 Stages Classification of Cirrhosis:Where DoWe Stand? (Gennaro D'Amico).
SESSION 5 VASCULAR DISEASE OF THE LIVER.
Lecture 13 Budd-Chiari Syndrome – Hepatic Venous Outflow Tract Obstruction (Dominique-Charles Valla).
Lecture 14 Extrahepatic Portal Vein Obstruction (EHPVO) (Shiv Kumar Sarin, Ashish Kumar and Yogesh Kumar Chawla).
Baveno V Consensus Statements Non-Cirrhotic Portal Hypertension.
LECTURE 15 The Coagulopathy of Chronic Liver Disease. Is the Long and Widely Held Belief Being Dispelled? (Armando Tripodi).
LECTURE 16 Anticoagulation Therapy in Cirrhosis with Portal Vein Thrombosis (Marco Senzolo).
LECTURE 17 Variceal Bleeding, Infections and the Hepatorenal Syndrome (Richard Moreau).
LECTURE 18 Portal Hypertension in Children: Current Practice and the Need for Evidence (Simon C Ling and Benjamin L Shneider).
SYMPOSIUM 2 A LOOK INTO THE FUTURE: NEW TREATMENTS ON THE HORIZON.
Lecture 19 Statins in Portal Hypertension (Juan G Abraldes, Vincenzo La Mura and Jaime Bosch).
Lecture 20 A Look into the Future: New Treatments on the Horizon – Antiviral Therapy (Diego Rincon, Cristina Ripoll, Marıa-Vega Catalina and Rafael Banares).
Lecture 21 Antifibrotic Drugs (Massimo Pinzani).
Lecture 22 New Drugs in the Treatment of Portal Hypertension (Marıa Gabriela Delgado, Susana Seijo and Jaime Bosch).
Index.