Positive Psychology Coaching: Putting the Science of Happiness to Work for Your Clients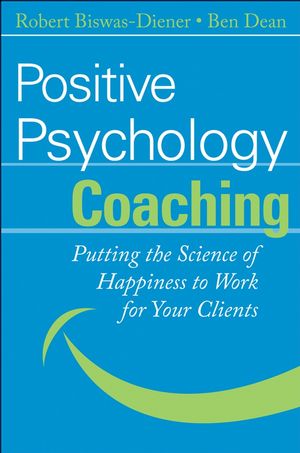 Positive Psychology Coaching: Putting the Science of Happiness to Work for Your Clients
ISBN: 978-0-470-89308-1
Jun 2010
272 pages
Description
Positive psychology moves psychology from a medical model toward a strengths model to help clients shore up their strengths and thereby lead happier, more fulfilling lives. Positive Psychology Coaching: Putting the Science of Happiness to Work for Your Clients provides concrete language and interventions for integrating positive psychology techniques into any mental health practice.
Introduction.
Acknowledgments.
Chapter 1: The Coaching Paradox and the Positive Psychology Solution.
Foundation I: Happiness and Positivity.
Chapter 2: Happiness: The Goal We Rarely Talk About.
Chapter 3: Choosing Happiness: Goals, Relationships, and Positive Thinking.
Chapter 4: Solid Happiness Interventions.
Foundation II: Character Strengths.
Chapter 5: Strengths Coaching.
Chapter 6: Coaching to Personal Strengths.
Chapter 7: Coaching to Social Strengths.
Special Topics in Positive Psychology Coaching.
Chapter 8: Helping Clients Craft the Perfect Job.
Chapter 9: The Future of Positive Psychology Coaching.
Appendix: Planning Positive Psychology Coaching Sessions.
Notes.
Index.
""This is definitely a book I would keep"" (
Human Resources,
March 2008)
""…it contains some interesting ideas which challenge standard psychoanalytic theory…"" (Journal of Analytical Psychology, 2008)
"…designed to teach how to put [positive psychology]…into practice and empower others to set and meet their personal goals" (Human Givens, Vol. 15, #1)
""…it contains some interesting ideas which challenge standard psychoanalytic theory…"" (Journal of Analytical Psychology, 2008)
""This is definitely a book I would keep."" (Human Resources, March 2008)
""Reading it was like getting that introduction from two very helpful, enthusiastic and knowledgeable friends."" (People Management, Thursday 12th July 2007)
""…designed to help you learn how to put positive psychology into practice…"" (Personnel Today, September 2007)
""This book is packed with erudite and reputable references."" (Training & Coaching Today, October 2007)