Positive and Negative Outcomes of Sexual Behaviors: New Directions for Child and Adolescent Development, Number 144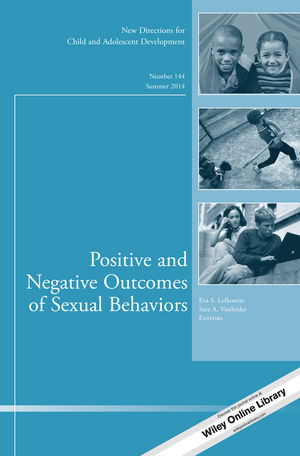 Positive and Negative Outcomes of Sexual Behaviors: New Directions for Child and Adolescent Development, Number 144
ISBN: 978-1-118-93038-0
Jun 2014, Jossey-Bass
112 pages
Description
Developing healthy sexual behaviors is critical to adolescents' wellbeing. While more emphasis has been on negative outcomes, there are broad positive implications for physical health, mental health, intimate relationships, and identity development. To fully understand the impact, we need to understand both. In addition, the impact of sexual behavior is not universal, but may differ based on individuals'  demographic, relational, contextual, and attitudinal factors.

This volume provides a framework for understanding the complex role of sexual behavior in adolescents' lives, with a specific focus on the roles of sexual minority status, internet-based sexual experiences, relationship context, and sexual learning through formal and informal sex education in determining the outcomes of sexual behavior. It provides:

A nuanced, multidimensional understanding of the role of sexual behavior in shaping adolescents' development and well-being
Important directions for future research
Recommendations for sexuality education, prevention, and intervention programs.
This is the 144th volume in this Jossey-Bass series New Directions for Child and Adolescent Development. Its mission is to provide scientific and scholarly presentations on cutting edge issues and concepts in this subject area. Each volume focuses on a specific new direction or research topic and is edited by experts from that field.
A MESSAGE FROM THE NEW EDITOR-IN-CHIEF 1
1. Is Sexual Behavior Healthy for Adolescents? A Conceptual Framework for Research on Adolescent Sexual Behavior and Physical, Mental, and Social Health 3
Sara A. Vasilenko, Eva S. Lefkowitz, Deborah P. Welsh
Adolescent sexual behavior influences physical, mental, and social health, although the impacts of such behavior may vary by a number of individual, relational, and contextual factors.
2. Outcomes of Sexual Behaviors Among Sexual Minority Youth 21
Elizabeth M. Morgan
Sexual behavior may have different implications for sexual minority than for heterosexual youth, including distinct physical, psychological and emotional, and identity outcomes.
3. Linking Online Sexual Activities to Health Outcomes Among Teens 37
Lucia F. O'Sullivan
Online sexual activities are common among adolescents, but are associated with fewer negative intrapersonal and interpersonal health outcomes than suggested by the often pathologized representation in the media.
4. The Complexities of Adolescent Dating and Sexual Relationships: Fluidity, Meaning(s), and Implications for Young Adults' Well-Being 53
Wendy D. Manning, Monica A. Longmore, Jennifer Copp, Peggy C. Giordano
Despite recent concern over nonrelationship sex and sex with multiple partners, adolescents engaging in these behaviors experience relatively few negative long-term outcomes.
5. Sexual Learning, Sexual Experience, and Healthy Adolescent Sex 71
J. Dennis Fortenberry
Adolescents learn to become sexually functional and healthy through a range of informal and formal sex education experiences, and sexual learning could be expanded to better support healthy sexual functioning.
6. Healthy Sex and Sexual Health: New Directions for Studying Outcomes of Sexual Health 87
Eva S. Lefkowitz, Sara A. Vasilenko
Adolescent sexual behavior is linked to a broad array of positive and negative outcomes, and future research with new methodologies and understudied populations can improve the understanding of the complexity of these associations.
INDEX 99