Post-Traumatic Stress Disorder For Dummies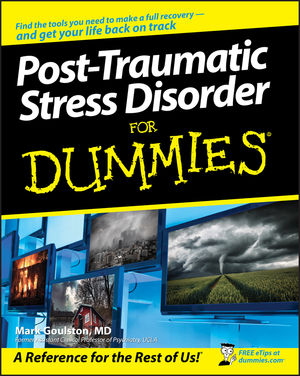 Post-Traumatic Stress Disorder For Dummies
ISBN: 978-1-118-05090-3 February 2011 384 Pages
Description
As Dr. Mark Goulston tells his patients who suffer from post-traumatic stress disorder (PTSD), "The fact that you're still afraid doesn't mean you're in any danger. It just takes the will and the way for your heart and soul to accept what the logical part of your mind already knows." In Post-Traumatic Stress Disorder For Dummies, Dr. Goulston helps you find the will and shows you the way.

A traumatic event can turn your world upside down, but there is a path out of PTSD. This reassuring guide presents the latest on effective treatments that help you combat fear, stop stress in its tracks, and bring joy back into your life. You'll learn how to:
Identify PTSD symptoms and get a diagnosis
Understand PTSD and the nature of trauma
Develop a PTSD treatment plan
Choose the ideal therapist for you
Decide whether cognitive behavior therapy is right for you
Weight the pros and cons of PTSD medications
Cope with flashbacks, nightmares, and disruptive thoughts
Maximize your healing
Manage your recovery, both during and after treatment
Help a partner, child or other loved one triumph over PTSD
Know when you're getting better
Get your life back on track
Whether you're a trauma survivor with PTSD or the caregiver of a PTSD sufferer, Post-Traumatic Stress Disorder For Dummies, gives you the tools you need to win the battle against this disabling condition.
Introduction.
Part I: The Basics of PTSD.
Chapter 1. The Invisible Epidemic of PTSD.
Chapter 2. Aftershock: When the Past Won't Stay in the Past.
Chapter 3. Spotting the Clues: Signs and Symptoms of PTSD.
Chapter 4. First Response: Preventive Treatments for PTSD.
Part II: Getting a Diagnosis and Drafting a Plan.
Chapter 5. Getting Answers: Finding Out Whether You Have PTSD.
Chapter 6. Building Your Treatment Team.
Chapter 7. Setting the Stage for Recovery: The First Steps Toward Healing.
Part III: Choosing the Right Treatment Approach.
Chapter 8. Putting PTSD in Its Place with Cognitive Behavioral Therapy (CBT)
Chapter 9. The Role of Medication in Treating PTSD.
Chapter 10. Additional Paths to Wellness: Drawing on the Power of Mind and Body.
Part IV: Healing and Rebuilding during and after Treatment.
Chapter 11. The Journey Back: What to Expect.
Chapter 12. Helping Yourself Heal Your Body, Mind , and Soul.
Chapter 13. Caring for Your Loved Ones While They Care for You.
Chapter 14. Getting Your Life Back on Track.
Part V: Stepping In: When You're Not the One Who's Suffering.
Chapter 15. Getting Help for a Child with PTSD.
Chapter 16. Supporting a Loved One with PTSD.
Part VI: The Part of Tens.
Chapter 17. The Ten Most Common Myths about PTSD.
Chapter 18. Ten Ways to Recognize that You're Getting Better.
Appendix: PTSD Resources.
Index.