Postcolonial African Philosophy: A Critical Reader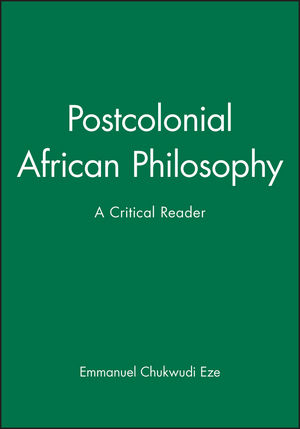 Postcolonial African Philosophy: A Critical Reader
ISBN: 978-0-631-20340-7
Jan 1997, Wiley-Blackwell
388 pages
Description
Postcolonial African Philosophy: A Critical Reader sets out a timely and powerful agenda for contemporary African, Afro-Caribbean, and African American philosophy.
Introduction: Philosophy and the (post) Colonial: Emmanuel Chuckwudi Eze (Bucknell University).
1. Philosophy, Culture and Technology in the Postcolonial: Kwame Gyekye (University of Ghana).
2. Is Modern Science a European System of Knowledge?: Sandra Harding (University of Delaware).
3. African Philosophy and Modernity: Peter Amato (Fordham University).
4. The Color of Reason: The Idea of Race in Kant's Anthropology: Emmanuel Chukwudi Eze (Bucknell University).
5. The Critique of Eurocentrism and the Practice of African Philosophy: Tsenay Serequeberhan (Simmons College).
6. Critic of Boers or Africans? Arendt's Treatment of South Africa in Origins of Totalitarianism: Gail Presby (Marist College).
7. African Philosophy's Challenge to Continental Philosophy: Robert Bernasconi (Memphis University).
8. Understanding African Philosophy from a Non-African Point of View: An Exercise in Cross-Cultural Philosophy: Richard Bell (College of Wooster).
9. Alterity, Dialogue, and African Philosophy: Bruce Janz (Augustana University College).
10. Tragic Dimensions of our Neocolonial 'Postcolonial World': Lewis Gordon (Purdue University).
11. Honor, Eunuchs, and the Postcolonial Subject: Leonard Harris (Purdue University).
12. Post-Philosophy and the Post-Colonial: John Pittman (John Jay College of Criminal Justice).
13. African Philosophy and the Post-Colonial: Some Misleading Abstractions about 'Identity': D. A. Masolo (Antioch College).
14. Democracy and Consensus in African Traditional Politics: A Plea for Non-Party Polity: Kwasi Wiredu (University of South Florida).
15. Of the Good use of Tradition: Keeping the Critical Perspective in African Philosophy: Jean-Marie Makang (University of Maryland).
16. Toward a Critical Theory of African (Post) Colonial Identities: Emmanuel Chuckwudi Eze (Bucknell University).
Bibliography.
"We are indeed blessed to have Eze's up-to-date and magnificent anthology. It brings together some of the most stimulating texts of African philosophy. Its ambitious effort will serve well all those interested in African Studies and students and professionals of philosophy in general."
V. Y. Mudimbe, Stanford University
" Emmanuel Chukwudi Eze has assembled a collection of essays that will be a most substantial contribution to making the case for African philosophy. Not just by the persuasiveness of each argument, but, as well, by virtue of each person who contributes to the effort. One important effect will be to further the development of African philosophy by moving the discussion well beyond the potential danger of confinement within improper conceptions of raciality not simply by attacking racialized thought, but via the constitutive activities of the contributors. This collection is, then, to be read and pondered in a number of respects in order to appreciate fully the very important contribution it is. " Professor Lucius Outlaw, Haverford College
* Represents a powerful conception of African philosophy for a new generation of scholars.
* Watershed collection of newly-commissioned papers.