Postmodern Geography: Theory and Praxis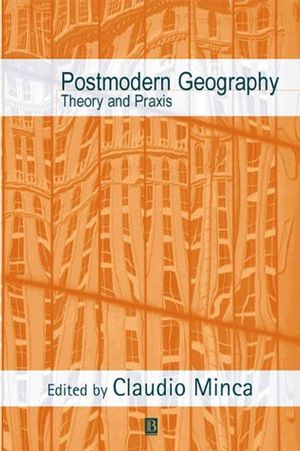 Postmodern Geography: Theory and Praxis
ISBN: 978-0-631-22560-7
Jun 2001, Wiley-Blackwell
336 pages
Description
This edited collection brings together some of the most authoritative voices in contemporary debates in geography: Michael Dear, Giuseppe Dematteis, Franco Farinelli, Cindy Katz, Don Mitchell, Gunnar Olsson, Neil Smith and Edward Soja to address the question of 'praxis' within broader discussions
of the postmodern in geography.
Preface. (Claudio Minca).
1. The Post Modern Turn. (Michael Dear).
Part I: Cities.
2. Exploring the Postmetropolis. (Edward W. Soja).
3. Postmodern Geographical Praxis? Postmodern Impulse and the War against Homeless People in the "Post-Justice" City. (Don Mitchell).
4. Hiding the Target: Social Reproduction in the Privatized Urban Environment. (Cindi Katz).
Part II: Scales.
5. Shifting Cities. (Giuseppe Dematteis).
6. Adventures of a Barong: A Worm's-Eye View of Global Formation. (Steven Flusty).
7. Rescaling Politics: Geography, Globalism and the New Urbanism. (Neil Smith).
Part III: Mappings.
8. Millenial Geographics. (Denis Cosgrove and Luciana De Lima Martins).
9. Postmodern Temptations. (Claudio Minca).
10. Paradoxes of Modern and Postmodern Geography: Heterotopia of Landscape and Cartographic Logic. (Vincenzo Guarrasi).
11. Mapping the Global, or the Metaquantum Economics of Myth. (Franco Farinelli) 12. Washed in a Washing Machine™. (Gunnar Olsson).
Afterword. (Edward W. Soja).
Index.
"A fine collection documenting the twists and turns of the debates on postmodernism in geography and urban studies. False god or saviour? You will find both views here. You will also find many fascinating intellectual moments - and not a little controversy."
Professor Nigel Thrift, University of Bristol
"This impressive anthology brings together the warring factions of American geographical theory - Marxism versus Postmodernism. Key figures of the Italian geographical tradition contribute a bold initiative to move geographical debates into line with current scientific standards. Their work, rarely available in English, is a 'must read' for those concerned with the representation of global flows and with cartographic practice." Professor Rob Shields, Carleton University

"What is perhaps genuinely new about the book is its introduction of a number of Italian geographers' 'takes' on the topic, including Giuseppe Dematteis, Franco Farinelli, Vincenzo Guarrasi and Claudio Minca." Eric Laurier, University of Glasgow, Progress in Human Geography, Vol. 26<!--end-->


Brings together some of the most authoritative voices in the postmodern debate.


Offers both continental European as well as Anglo-American perspectives on postmodern geography.


Presents an innovative approach to the study of postmodern geography focusing upon questions of praxis.