Postmodern Literary Theory: An Anthology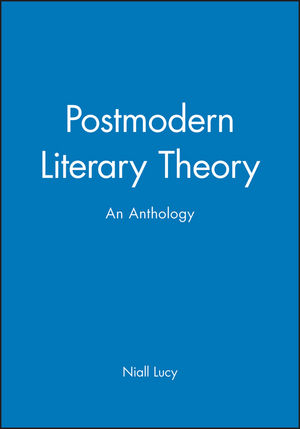 Postmodern Literary Theory: An Anthology
ISBN: 978-0-631-21027-6 February 2000 Wiley-Blackwell 468 Pages
Description
Literature today is a very different concept from that of only a generation ago, and this difference is attributed usually to 'postmodernism'. Most radical of all is the possibility that the very notion of literature is rendered untenable by postmodernism. How did this possibility arise? Who are the key figures responsible for its emergence; which are the key texts of its expression? This Anthology provides ways of responding to such questions.
Preface.
Acknowledgements.
Introduction: on the Way to Genre.
Part I: Genre:.
1. Genre: Phillipe Lacoue-Labarthe and Jean-Luc Nancy.
2. Communication Without Communication': Jean-François Lyotard.
3. From One Identity to Another: Julia Kristeva.
4. Rhizome: Gilles Deleuze and Félix Guattari.
Part II: Ethics:.
5. Rewriting Wrong: On the Ethics of Literary Reversion: Steven Connor.
6. The Ethics of Alterity: Thomas Docherty.
7. Three Genres: Luce Irigaray.
8. Writing and the Law: Blanchot, Joyce, Kafka and Lispector: Hélène Cixous.
Part III: Cyber: .
9. Watching the Detectives: Kristin Ross.
10. Feminism for the Incurably Informed: Anne Balsamo.
11. POSTcyberPUNKmodernISM: Brian McHale.
12. Miracles: Hot Air and Histories of the Improbable: Tony Thwaites.
Part IV: Text: .
13: From work to Text: Roland Barthes.
14. Do Postmodern Genres Exist?: Ralph Coren.
15. The Literature of Exhaustion: John Barth.
16. Writing Against Simulacrum: The Place of Literature and Literary Theory in the Postmodern Age: Jenaro Talens.
Part V: Post: .
17. Postmodern value: Catherine Burgass.
18. In Search of the Lyotard Archipelago, or: How to Live with Paradox and Learn to Like It: William Rasch.
19. Preface to Anti-Oedipus: Michel Foucault.
20. Analytic Ethics: Alec Mchoul.
Part VI: Postscript: .
21. Note on the Meaning of 'Post-': Jean-François Lyotard.
22. The Romantic Movement at the End of History: Jerome Christensen.
Select Bibliography.
Index.
'This is a timely and well-constructed anthology which carves out a distinctive niche among the many recent books on postmodermism....It finds room for a wide variety of arguments, approaches and critical viewpoints and thereby encourages readers to form their own judgement as to the implications of postmodernist thinking for literary criticism and theory.'
Chris Norris, University of Wales, Cardiff<!--end-->
* Anthologizes the key figures responsible for the emergence of postmodernism and the texts of its expression.
* Includes summaries, contextual remarks and suggested further reading, helping the students to understand postmodern literary theory.