Postpartum Depression For Dummies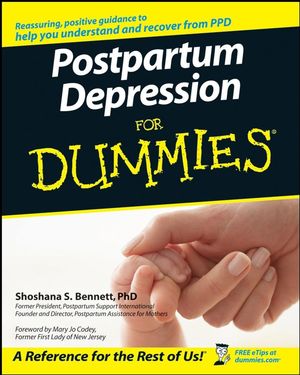 Postpartum Depression For Dummies
ISBN: 978-1-118-06814-4 April 2011 388 Pages
Description
It's a great blessing when a new mom with postpartum depression (PPD) is fortunate enough to be diagnosed early by a knowledgeable medical practitioner or therapist. But without guidance, it isn't always clear where the boundary between normal baby blues and PPD lies. As with any other illness, the quicker that PPD is identified and treated, the faster the woman will recover.
Postpartum Depression For Dummies can help you begin the process of determining what's going on with you and give you a better idea of where you fall so that you can get yourself into proper treatment right away. The book covers all aspects of PPD, from its history and its origins to its effects on women and their families to the wide variety of treatments available—including conventional Western medicine, psychological therapy, alternative medical treatments, and self-care measures. Postpartum Depression For Dummies reveals:
Why some doctors may be hush-hush about PPD

How to distinguish between pregnancy hormone changes, "baby blues," and PPD

The difficulties of getting a proper diagnosis

The role and importance of a therapist

The benefits of medication for depression

Alternative treatments with  a successful track record

How to find the right balance of psychological, medical, and alternative treatment

Ways you can help foster recovery

The nutrition you need to care for yourself properly

How to help your partner help you
Postpartum Depression For Dummies also provides the additional resources you need—web sites, organizations, and further reading—to help avoid the unnecessary suffering caused by undiagnosed and untreated PPD and survive and thrive as a new mom.
Table of contents
Foreword.
Introduction.
Part I: Bringing Postpartum Depression into the Light: What It's All About.
Chapter 1: The Big Adjustment:Welcome to Motherhood.
Chapter 2: These Ain't No Baby Blues: PPD, Up Close and Personal.
Chapter 3: You Mean There's More? Five Related Postpartum Disorders.
Part II: The Three Little Letters: PPD and You.
Chapter 4: Looking Within: Is PPD Your Big Bad Wolf?
Chapter 5: A Professional Assessment: What's Huffing and Puffing at Your Mind's Door?
Chapter 6: Seeking Out a Therapist to Keep Your Proverbial House Standing.
Part III: Diagnosis Confirmed: Looking at the Treatment Options for PPD.
Chapter 7: Venting Your Mind and Heart: Psychological Treatment.
Chapter 8: Counteracting a Chemical Cause: Medical Treatments.
Chapter 9: All Things Natural: Alternative Treatments.
Chapter 10: Creating a Comprehensive Treatment Plan.
Part IV: Traveling the Road to Recovery.
Chapter 11: Getting the Most Out of Your Treatment.
Chapter 12: Setting the Supermom Cape Aside: Caring For Yourself.
Chapter 13: Coping with Your Feelings.
Chapter 14: Finding Somebod(ies) to Lean On.
Chapter 15: Helping Your Partner Help You.
Chapter 16: Helping the One You Love: A Chapter for Family, Friends, and Partners.
Part V: Moving Beyond PPD.
Chapter 17: Delight at the End of the Tunnel: Emerging with a New Sense of Self.
Chapter 18: Deciding Whether to Have Another Baby.
Part VI: The Part of Tens.
Chapter 19: Ten Common Fantasies about Motherhood.
Chapter 20: Ten Thoughts to Focus on Throughout the Day.
Appendix: Resources.
Index.