Postwar British Politics in Perspective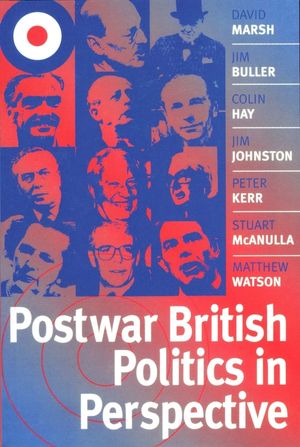 Postwar British Politics in Perspective
ISBN: 978-0-745-62029-9 June 1999 Polity 264 Pages
Description
This broad-ranging and original text provides an accessible introduction to British politics since 1945, challenging many well-established orthodoxies.
Table of contents
About the authors.
Introduction: Explaining Change in the Postwar Period. (David Marsh).
Part One: Key Themes of Postwar British Political Development.
1. Continuity and Discontinuity in British Political Development. (Colin Hay).
2. Britain's Economic Decline: Cultural Versus Structural Explanations. (Jim Johnston).
3. The Post-War Consensus: A Woozle That Wasn't? (Peter Kerr).
4. Crisis and Political Development in Postwar Britain. (Colin Hay).
5. Britain's Relations with the European Union in Historical Perspective. (Jim Buller).
6. Globalization and the Development of the British Political Economy. (Matthew Watson).
Part Two: Key Narratives of Postwar British Political Development.
7. Questions of Change and Continuity in Attlee's Britain. (Jim Johnston).
8. Explaining Thatcherism: Towards a Multidimensional Approach. (Peter Kerr and David Marsh).
9. The Post-Thatcher Era. (Stuart McAnulla).
Conclusion: Analysing and Explaining Postwar British Political Development. (Colin Hay and David Marsh).
Bibliography.
Index.
Reviews
"This is an iconoclastic book, which challenges established interpretations of British politics since 1945 and develops its own powerful new approach to understanding social and political change. It deserves to be widely read."
Andrew Gamble, University of Sheffield

"The authors present a powerful new theoretical and methodological approach to postwar British politics. Combining theoretical argument and judiciously chosen case studies, their new textbook will surely stimulate interest in critical realism and its broader relevance to political analysis." Bob Jessop, Lancaster University

"Postwar British Politicsin Perspective provides an authoritative, theoretically informed and eye-catching reinterpretation of British political development. Historically grounded and yet urgently contemporary in its treatment of themes such as UK-EU relations and the domestic consequences of globalization, the book should be required reading for specialists, students and anyone interested in British politics. It is a book that punctures much of the conventional wisdom and replaces it with an uncommonly astute and comprehensive alternative." Joel Krieger, Wellesley College, Massachusetts
"It may interest advanced graduate students and specialists in the field." M. Curtis Rutgers, The State University of New Jersey, New Brunswick
Features
* A comprehensive, yet accessible introduction to British Politics since 1945 and to the development of the British state.
* Essential reading for scholars concerned with questions of social, political and economic change, especially future change after an era of Conservative domination.
* Offers a novel perspective, demonstrating to students the highly contested nature of political change in the postwar years.