Potentiometric Water Analysis, 2nd Edition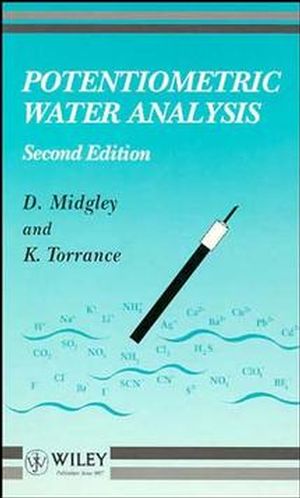 Potentiometric Water Analysis, 2nd Edition
ISBN: 978-0-471-92983-3 September 1991 600 Pages
Description
Potentiometric Water Analysis Second Edition Derek Midgley and Kenneth Torrance, National Power plc, Technology and Environmental Centre, Leatherhead, Surrey, UK This volume is a thoroughly revised and updated version of the very successful first edition. It provides, in one single volume, a comprehensive survey of the theoretical and practical aspects of potentiometry and ion-selective electrodes applied to the analysis of water. The first part of the book describes the basic theory of electrodes, the statistical treatment of results, titrimetric methods and general guidance on procedures. Useful information is given on the types of electrodes available, together with the apparatus required for laboratory and industrial use. For this second edition, the authors include details on microprocessor-based instruments, new electrodes and techniques that have recently been developed, as well as updating the variations on established procedures and their performance characteristics. The second part of the book gives detailed analytical methods for identifying a variety of determinands. Worked examples with discussions of sources of error and likely accuracy are also included. The book is designed to give sufficiently detailed procedures so that the reader can use the methods without recourse to the primary literature. With its emphasis on the practical aspects of potentiometric water analysis, this book will be a valuable tool for analysts working in the field.
Table of contents
Partial table of contents:

THEORETICAL AND PRACTICAL BACKGROUND.

Electrochemical Principles.

Electrodes.

Equipment.

Analytical Principles.

Potentiometric Titrations and Related Methods.

Potentiometric Analytical Practice.

ANALYTICAL METHODS.

The Measurement of pH.

Determination of Lithium.

Determination of Calcium.

Determination of Silver.

Determination of Copper.

Determination of Ammonia.

Determination of Fluoride.

Titrimetric Determination of Sulphate.

Determination of Surfactants.

Appendices.

Index.