Poultry Coccidiosis: Diagnostic and Testing Procedures, 3rd Edition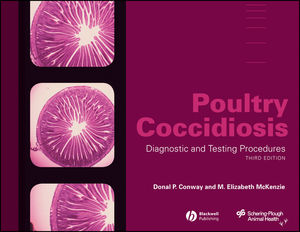 Poultry Coccidiosis: Diagnostic and Testing Procedures, 3rd Edition
ISBN: 978-0-470-34432-3
Jun 2007, Wiley-Blackwell
168 pages
Description
Poultry Coccidiosis is a valuable, comprehensive reference that reviews the biology of coccidia, covers current diagnostic and testing procedures, and thoroughly covers the anti-coccidial vaccines and drugs that are currently available. This user-friendly guide will provide poultry scientists, poultry disease diagnosticians, and veterinary practitioners with a well-illustrated description of the Johnson and Reid scoring procedure, thorough explanation of laboratory procedures, experiment design, example protocols for testing anticoccidial drugs, a summary of the chemical name, structure, safety, and efficacy of anticoccidial drugs, and a review of anticoccidial vaccines that are currently available. This easy-to-use reference will be an invaluable tool for anyone working with poultry.
Preface.
Chapter 1. Introduction to Coccidiosis.
Diagnostic Chart.
Coccidial Life Cycle.
Diagnostic Procedure.
References.
Chapter 2. Examination of Lesions and Lesion Scoring.
Lesion Scoring (Johnson and Reid Method).
Lesions of Major Species.
References.
Chapter 3. Preparation of Oocysts.
Oocyst Collection.
Sporulation and Storage.
Oocyst Counting.
Propagation.
Calibration of a Microscope for Measuring Oocysts.
References.
Chapter 4. Basic Procedures and Example Protocols for Testing Anticoccidial Drugs.
Battery Tests.
Floor Pen Tests.
Commercial Tests.
References.
Chapter 5. Coccidiosis Epidemiology and Control.
Factors Influencing the Occurrence of Coccidiosis.
Basic Elements of Coccidiosis Control.
Application of Anticoccidial Drugs and Vaccines.
Management of the Host Environment.
Feed Quality Control.
References.
Chapter 6. Anticoccidial Drugs and Vaccines.
Anticoccidial Drugs.
Amprolium.
Amprolium + Ethopabate.
Amprolium + Ethopabate + Sulfaquinoxaline.
Arprinocid.
Clopidol (Meticlorpindol, Clopindol) Clopidol + Nequinate (Methyl Benzoquate).
Folate Antagonists and Inhibitors.
1. Diaminopyrimidines.
2. Sulfadimethoxine.
3. Sulfaguanidine.
4. Sulfamethazine (Sulphamezathine, Sulfadimerazine, Sulfadimidine).
5. Sulfanilamide.
6. Sulfaquinoxaline.
Glycarbylamide.
Halofuginone Hydrobromide.
4-Hydroxyquinolines.
1. Buquinolate.
2. Decoquinate.
3. Nequinate (Methyl Benzoquate).
Nicarbazin.
Nitrobenzamides.
1. Dinitolmide (Zoalene).
2. Aklomide + Sulfanitran.
3. Nitromide + Sulfanitran + Roxarsone.
Nitrophenide.
Nitrofurans.
1. Furazolidone.
2. Nihydrazone.
3. Nitrofurazone.
Organic Arsenicals.
1. Oxophenylarsine (Arsenosobenzene).
2. Roxarsone.
Polyether Ionophores.
1. Lasalocid.
2. Maduramicin Ammonium.
3. Monensin Sodium.
4. Narasin.
5. Narasin + Nicarbazin.
6. Salinomycin Sodium.
7. Semduramicin.
Robenidine Hydrochloride.
Steroidal Sapogenin.
Triazines.
1. Diclazuril.
2. Toltrazuril.
Anticoccidial Vaccines.
Coccivac.
Immucox.
Nobilis COX ATM.
Advent.
Inovocox.
Livacox.
Paracox.
CoxAbic.
References


Aids poultry scientists, poultry disease diagnosticians, and veterinarians in a better understanding of coccidiosis diagnosis and treatment

Provides a thorough review of biology of coccidia and diagnostic procedures

Summary of the chemical name, structure, safety, and efficacy of anticoccidial drugs and a review of current anticoccidial vaccines