Poverty in Europe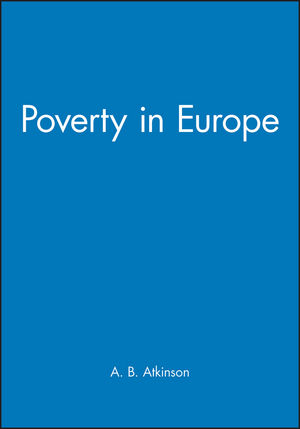 Poverty in Europe
ISBN: 978-0-631-21029-0
Nov 1998
200 pages
Description
The work draws upon recent research to examine the problem of poverty. In its exploration, Poverty in Europe challenges readers to reach an improved understanding of the problem and to seek improvement.
Preface.
List of Tables.
List of Figures.
Introduction: Poverty in Rich Countries.
Part I: Political Arithmetic: Financial Poverty in the European Union:.
1. The Measurement of Poverty: A Cautionary Tale of Comparing France and the United Kingdom.
2. Absolute and Relative Standards.
3. Expenditure versus Income, Households versus Families, and Choice of Equivalent Scale.
4. Differing Judgements and Dominance Criteria.
5. National Studies of Poverty.
Part II: Economics of Poverty and Exclusion:.
6. Unemployment and Exclusion in the Labour Market.
7. Pricing and Exclusion from the Goods Market.
8. Exclusion, Rising Living Standards and the Availability of Products.
9. Household Production, Time and the Take-Up Problem.
Part III: Political Economy of Poverty:.
10. The Political Economy of an Official Poverty Line.
11. Macro-Economic Policy and Poverty.
12. Targeting and Efficiency in Alleviating Poverty.
13. The Limits of Targeting via Means Tests.
14. Towards a European Minimum.
Envoi: Poverty, Policy and Mainstream Economics.
Appendix on Statistical Sources.
* Incorporates recent research.
* Developed from the author's presentation at the twelfth Yro Jansson Lecture in Helsinki.
* Confronts the issue of the persistence of poverty in wealth countries.
* Covers the topics of financial poverty in the European Union, economics of poverty and exclusion, and political economy of poverty.