Powder Materials: Current Research and Industrial Practices III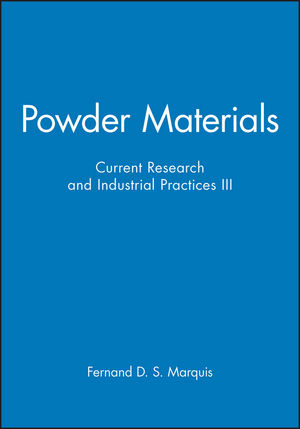 Powder Materials: Current Research and Industrial Practices III
ISBN: 978-1-118-98423-9
Jun 2014
330 pages
Description
Compiling presentations from scientists, engineers, and manufacturers, this book will include papers on powder making, powder conditions, reactive powder handling, powder characterization, hot and cold uniaxial pressing, hot and cold isostatic pressing, powder rolling, extrusion, sintering, heat treatment and processing facilities, rapid and directional solidification, consolidation, in-situ synthesis of composites, ceramics and intermetallics, atmospheric and low-pressure plasma spray, flame spray, wire-arc spray, alloy and materials development, mechanical behavior of bulk powder-based materials, physical-based mathematical models, theories, simulation, micromechanisms, and end-use products.

From Materials Science & Technology 2003 to be held in Chicago, Illinois, November 9-12, 2003.
Preface.
POWDER AND PARTICULATE MAKING AND PROCESSING.
Analysis of Gas Recirculation Flow Effects in the Melt Feeding Zone of aClose-Coupled Gas Atomization Nozzle (I.E. Anderson, R.L. Terpstra and R. Figliola).
The Effect of Swirl on Gas Velocity Decay in a Generic Annular Close-Coupled Nozzle (S.P. Mates, F.S. Biancaniello and S.D. Ridder).
Reduced-Scale Gas Atomizer Facility for Rapid Solidification Studies (Abstract Only) (F.S. Biancaniello, S.P. Mates, and S.D. Ridder).
Argon Atomizated Powder Astaloy for Jet Engine Discs (Abstract Only) (L.M. Bianchi).
Metallic Filters for Hot Gas Clean-Up (R.L. Terpstra, I.E. Anderson and B. Gleeson).
Thermal Plasma Processing of Boron Carbide Fine Powders (N.R. Thakkar and R.G. Reddy).
Solid State Processing of AZ31 Alloy from Machined Chips (Abstract Only) (T. Luangvaranunt, K. Kondoh and T. Aizawa).
SINTERING.
Numerical Simulation of Shape Changes During Cemented CarbideSintering (A. Petersson and J. Agren).
Oxidation of Fuel Cell Interconnect Alloys Produced by Powder Extrusion (Abstract Only) (B.C. Church, T.H. Sanders, Jr., and J.K. Cochran).
Hydrogen Sorption Properties of Mg-x wt.% Mm Alloys (N.E. Tran and S.G. Lambrakos).
Shock Compaction of Exchange-Coupled Bulk Nanocomposite Magnets(Abstract Only) (Z.Q. Jin, K.H. Chen, J. Li, G. Kennedy, H. Zeng, S.-F. Cheng an Z.L. Wang).
Present Status and Future Potential of Sinter-Forging Technology (S. Kumar and A.K. Jha).
Interfacial Friction During Mechanical Processing of Sintered MetalPowder Preforms (S. Kumar, A.K. Jha, M. Agarwal and R.K. Singh).
Nanostructured Bulk Cu Obtained by Consolidation of Cu Particles Using Equal Channel Angular Extrusion (M. Haouaoui and I. Karaman).
IN-SITU REACTIONS FOR SYNTHESIS AND DENSIFICATION.
Microstructure and Strength of Shock Synthesized and Densified TungstenHeavy Alloys (F.D.S. Marquis and A. Mahajan).
Production of Nanophase Metals via the Continuous Microwave Polyol Process (D. Lewis, M.A. Imam, R.W. Bruce, L.K. Kurihara, A.W. Fliflet and S.H. Gold).
Mechanical Alloying for Advanced Materials (C. Suryanarayana and E. Ivanov).
Fabrication of Bulk Nanocomposite Magnets by Nano-Powder Metallurgy (J.P. Liu).
Synthesis of Advanced Ceramic Composites (Abstract Only) (O. Okrostsvaridze, F.D.S. Marquis, G. Tavadze, A. Khvadagiani and D. Sachvadze).
Influence of Neutron Irradiation on Shock Wave Strengthened Titaniumand Copper (Abstract Only) (N. Chikhradze, F.D.S. Marquis, E.S. Lapiashvili, M.T. Asatiani and A.B. Peikrishvili).
Explosive Compaction/Cladding of YBCO Discs: A Numerical Approach (A.G. Mamalis, I.N. Vottea, D.E. Manolakos, A. Szalay and F.D.S. Marquis).
Coating of SWNTs with Nickel by Electroless Plating Method (Abstract Only) (O. Zeng, Y. Bayazitoglu and E.V. Barrera).
RAPID PROTOTYPING AND RAPID MANUFACTURING.
Selective Laser Polishing Surface Phenomenology in Fe-Cu Indirect SLS Products (Abstract Only) (J.A. Ramos and D.L. Bourell).
Slurry Extrusion and Laser Densification in Rapid Prototyping for Dental Restoration (Abstract Only) (L.L. Shaw, X. Li and J. Wang).
Rapid Materials Prototyping as a Combinatorial Materials Science Tool (Abstract Only) (R. Vilar).
Laser Powder Deposition of Titanium Engine Exhaust Valves with Wear Resistant Coatings (Abstract Only) (J.W. Sears, E. Pollard, M. Moberg, N. Wald, V. Johnson and F.D.S. Marquis).
Development of Laser-Powder Additive Manufacturing for Industry: Historical Perspective, Current and Future Applications (J.W. Sears).
Microstructural Observations of 316L Stainless Steel Laser Powder Depositions (S.K. Koduri, E. Henderson, A.C. Costello and J.W. Sears).
Laser Enhanced Thermal Spray Coatings (V. Loganathan, C.H. Jenkins, C. Allen and J.W. Sears).
Structure of MCrAlY Laser Cladding Coatings Deposited on SingleCrystal Alloy Turbine Blades (P.N. Ferreira, R. Vilar, J.P. Pina, R.C. da Silva, A.D. Sequeira and F.D.S. Marquis).
Qualification of Model Based LENS Materials Processing (Abstract Only) (J.E. Smugeresky, R. Grylls, D.M. Keicher and C. Robino).
STRUCTURE/PROPERTIES/PROCESSING RELATIONSHIPS.
An Overview of Current Research and Industrial Practices of Be PowderMetallurgy (Abstract Only) (J.C. Foley, S.P. Abeln, P.W. Stanek, B.D. Bartram, V.D. Vargas and B. Aikin).
Structure and Properties of Consolidated Amorphous Metal Powder (F.S. Biancaniello, T.F. Zahrah, R.D. Jiggetts, R. Rowland, S.P. Mates and S.D. Ridder).
Instrumented Mechanical Alloying of a Novel Superalloy Powder (M.G. McKimpson and M. King).
Double Cemented Carbide – Microstructural Model of Toughness(Abstract Only) (X. Deng, T. Tang, N. Sun, A. Griffo and J.W. Bitler).
Powder-Derived High-Conductivity Coatings for Copper Alloys (L.U. Ogbuji).
Increased Processing Options and Properties of Molybdenum 41%Rhenium as a Result of Powder Modification (D. Mitchell, T. Leonhardt, J. Downs and N. Moore).
Precast Refractory Systems: The Furnace Lining Systems for the Future(Abstract Only) (D. Quilter).
Author Index.
Subject Index.