Powell-Smith and Furmston's Building Contract Casebook, 4th Edition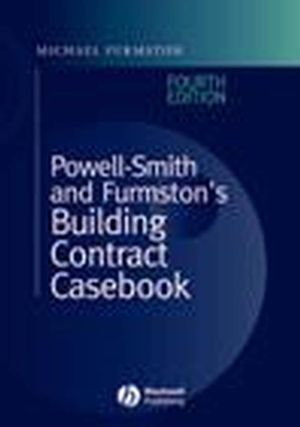 Powell-Smith and Furmston's Building Contract Casebook, 4th Edition
ISBN: 978-0-470-75937-0 January 2008 Wiley-Blackwell 576 Pages
Description
This well established reference book brings together leading cases on building contracts to illustrate legal principles. It provides a statement of the principle established, a summary of the facts and the decision and, for most cases, a verbatim extract of the judgment. The latest edition includes a number of new cases since the last edition was published in 1999.
Preface.
Part I - Formation of the contract: Letters of intent, Costs of tendering, Tenders and estimates, Incorporation of documents, Acceptance of the tender;.
Part II - Performance of the contract: The contractor's obligations, The employer's obligations, Ownership and vesting of materials, Acceptance and defects, Approval and certificates, Variations, Prolongation and disruption claims, Liquidated damages and extensions of time;.
Part III - Discharge of the contract: Release, Frustration, Illegality, Forfeiture clauses, repudiation and determination, Limitation;.
Part IV - Sub-contracts and sub-contractors: Assignment and sub-letting, Domestic sub-contractors, Nominated sub-contractors.
Part V - Building Contracts and the Law of Tort.
Table of Cases.
Index
'a useful conduit to necessary knowledge for a range of those involved in the resolution of sonstruction disputes' Construction Law Oct 2007
* the only book to bring together leading building cases in one volume at an affordable price
* updated with recent cases since last edition (1999)
* provides statement of principle established by case, a summary of facts and decision, plus extract from judgment
* Michael Furmston well known as editor of Cheshire, Fifoot & Furmston's Law of Contract
* 'a mine of information' (The Architect's Journal)
* 'a very useful textbook for contractors, architects, engineers and QSs' (Chartered Quantity Surveyor)