Power Hungry: Strategic Investing in Telecommunications, Utilities, and Other Essential Services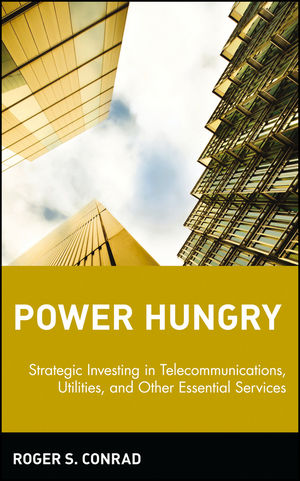 Power Hungry: Strategic Investing in Telecommunications, Utilities, and Other Essential Services
ISBN: 978-0-471-44295-0
Jan 2002
336 pages
Product not available for purchase
Description
The best strategies for investing in the utilities industry
With the deregulation of the utility industry, the entire landscape of the power economy has greatly changed. This has had a dramatic impact on consumers, corporations, and especially investors. The only book focused on investing within the energy, communications, and water industries, Power Hungry offers a comprehensive look at the considerable opportunities arising from these industries. Along with providing one-of-a-kind investment strategies for investing in utilities and other essential services, Power Hungry provides a framework for readers to construct their own model portfolio of stocks, commission-free, so they can reap the rewards of a field with enormous profit potential. Established companies may no longer hold the lion's share of the marketplace, but this book corners the market on investing in these profitable industries.
Acknowledgments.

Introduction.

CHAPTER 1: A Shock to the System.

A New Paradigm.

Deep Roots.

Electrics Take the Bait.

Wholesale Changes.

A Taste of Armageddon.

Industry Profile: Jonathan Gottlieb.

CHAPTER 2: The High Price of Power.

Help Wanted: Power Plant Builders.

It's Gas, Gas, Gas.

Crisis of Confidence.

Industry Profile: Richard Osborne.

CHAPTER 3: Toward the Next Ma Bell.

The Rise and Fall of AT&T.

Vail's Revenge.

Secrets of Success.

The Next Ma Bell.

Industry Profile: Jim Linnehan.

CHAPTER 4: The New Politics of Water.

The Muni Monopoly.

The Worm Turns.

The New Order.

Water's Winners.

Diluting the Competition.

Industry Profile: Anton Garnier.

CHAPTER 5: The Foreign Invasion.

Going Global.

Back to the Future.

Why Go Abroad?

Managing Risks.

Winners and Losers.

Industry Profile: Dennis Bakke.

CHAPTER 6: Technology's Revolutionary Evolution.

Revolution's Evolution.

The Wireless Evolution.

Paradigm vs. Prophecy.

The Next Re-Evolution.

Industry Profile: John Howe.

CHAPTER 7: Riding the Boom.

Scapegoat and Savior.

Energy Efficiencies.

Wires and Pipes.

Wired for Growth.

Water Works.

The Winners' Circle.

Industry Profile: Nick DeBenedictis.

CHAPTER 8: Morgan, Mergers, and Money.

Empire Builders.

Back to the Future.

Picking Targets.

High Percentage Bets.

Consolidation's Limits.

Industry Profile: Robert Fagan.

CHAPTER 9: Hidden Treasure.

The Story of Diversification.

Success Stories.

Finding Assets.

Hidden Minefields.

Industry Profile: Rick Green.

CHAPTER 10: Five Rules for Investing Success.

Rule #1: Buy for the Long Haul.

Rule #2: Be Your Own Analyst.

Rule #3: Diversify.

Rule #4: Never Sell on Bad News.

Rule #5: Reinvest Dividends.

Industry Profile: Lowell Miller.

CHAPTER 11: The Surest Return.

Safety First.

Preferred Option.

Uncommon Common Stocks.

The Ideal Income Portfolio.

Industry Profile: Göran Mörnhed.

CHAPTER 12: The Consumer's Guide to Utility Deregulation.

Buyer Power.

Villains and Victims.

Tip #1: Take Control of What You're Paying For and Whom You're Paying.

Tip #2: Organize Whenever Possible.

Tip #3: If You Believe in Renewable Energies, Buy Green.

Tip #4: Use the Internet for Information.

Industry Profile: Tyson Slocum.

AFTERWORD Making Change Your Friend.

APPENDIX 1 Utility Data Bank.

APPENDIX 2 Mergers.

APPENDIX 3 Glossary.

APPENDIX 4 Model Portfolios.

APPENDIX 5 For Your Information.

Index.