Power Presentations: How to Connect with Your Audience and Sell Your Ideas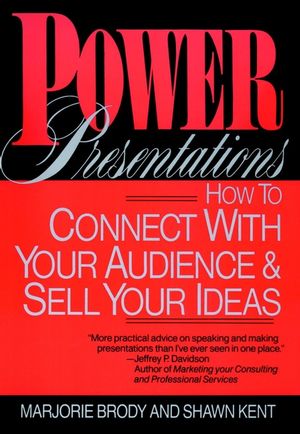 Power Presentations: How to Connect with Your Audience and Sell Your Ideas
ISBN: 978-0-471-55961-0 October 1992 224 Pages
Description
Takes the mystery out of putting together an effective presentation by addressing each of the steps involved. Not only gives readers confidence but offers enhanced opportunities for promotion and career advancement. Elucidates how to organize presentations to achieve your goal; how to use factual, logical and captivating supporting materials as well as visuals and audio-visual equipment; how to answer questions effectively and includes numerous techniques to use with a variety of audiences.
Table of contents
Partial table of contents:

TAKING CONTROL.

Turning Stage Fright Into Excitement.

Warming Up.

Nonverbal Communication.

Staying in Control.

GROUNDWORK.

Styles of Delivery.

Knowing Your Audience.

WORKING ON YOUR PRESENTATION.

The Outline.

Organizing the Body of Your Speech.

Supporting Materials.

COMMUNICATING ON PURPOSE.

Informative Speaking.

Persuasive Speaking.

Effective Sales Presentations.

How to Be a Better Listener.

MASTERING THE MECHANICS.

Speaking Aids.

Pointers for Using the Room.

How Visual Aids Can Help.

Room Checks for Computers.

CHECKLISTS.

Speech Preparation Checklist.

Speech Delivery Checklist.

Bibliography.

Index.