Power System Dynamics and Stability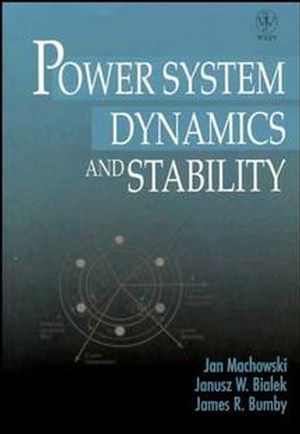 Power System Dynamics and Stability
ISBN: 978-0-470-86635-1
Nov 2000
484 pages
Description
As the demand for electrical power increases, power systems are being operated closer to their stability limits. This text focuses on explaining and analysing the dynamic performance of such systems which is important for both system operation and planning. Placing emphasis on understanding the underlying physical principles, the book opens with an exploration of basic concepts using simple mathematical models. Building on these firm foundations the authors proceed to more complex model and algorithms.
Power System Components.

The Power System in the Steady-State.

Electromagnetic Phenomena.

Electromechanical Dynamics -
Small Disturbances.

Electromechanical Dynamics -
Large Disturbances.

Voltage Stability.

Frequency Variations.

Stability Enhancement.

Advanced Power System Modelling.

Power System Model Reduction -
Equivalents.

Steady-State Stability of Multi-Machine System.

Power System Dynamic Simulation.

Appendix.

References.

Index.
"...the book gives an excellent presentation of the wide field of power systems dynamics. It is very readably written, especially for students and engineers who want to read a few pages for understanding a certain problem." (Automatica No.38, 2002)

"...gives an excellent presentation of the wide field of power systems dynamics. It is very readably written, especially for students and engineers..." (Automatica, Vol. 38, 2002)