Power Thinking: How the Way You Think Can Change the Way You Lead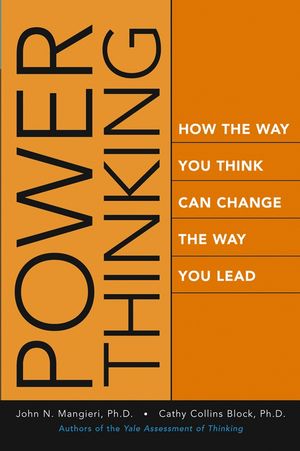 Power Thinking: How the Way You Think Can Change the Way You Lead
ISBN: 978-0-787-96882-3 February 2004 Jossey-Bass 304 Pages
Description
Most individuals were never formally taught thinking skills and, as a result, are using processes that were developed during childhood to reach decisions and solve problems. Thus, in an era of knowledge explosion, organizational performance accountability, and rapid change caused by technology, leaders and managers are trying to succeed using thinking patterns developed before they were twelve years old. Power Thinking offers leaders the information they need to evaluate their current thinking proficiencies, determine areas for improvement, and enhance their thinking skills. The book includes the Yale Assessment of Thinking, a standardized assessment measure that enables readers to determine their abilities in the cognitive domains found to be crucial to being an outstanding leader.
Preface.
1. Why Power Thinking Is a Must and Not a Should for Leaders.
2. How Proficient Are My Thinking Skills?
3. What Do My Test Scores Tell Me About My Thinking Skill Levels?
4. Reasoning: Internal Cognitive Process.
5. Reasoning: External Cognitive Process.
6. Insight: Internal Cognitive Process.
7. Insight: External Cognitive Process.
8. Self-Knowledge: Internal Cognitive Process.
9. Self-Knowledge: External Cognitive Process.
10. Putting Our Words into Practice.
Appendix: Normative Data.
References.
The Authors.
Index.